Finally!
Well, we didn't have Jonathan and Drew to show us all of the wonderful things throughout the house or a big before billboard pulled apart by Joanna and Chip…but we did finally get to kick out the contractors and move in!
And just to refresh your memory…the before: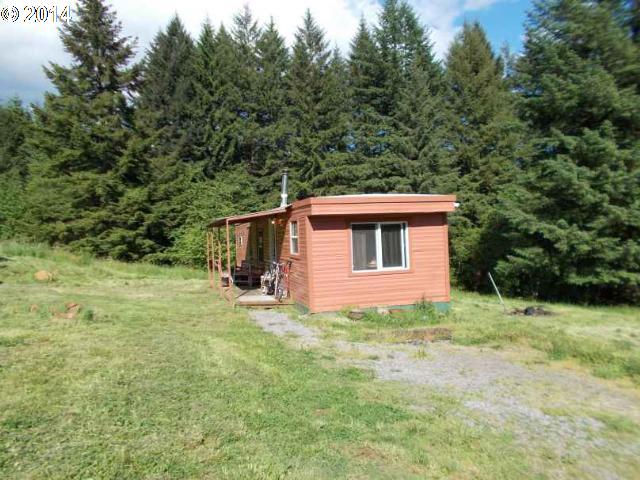 And the after: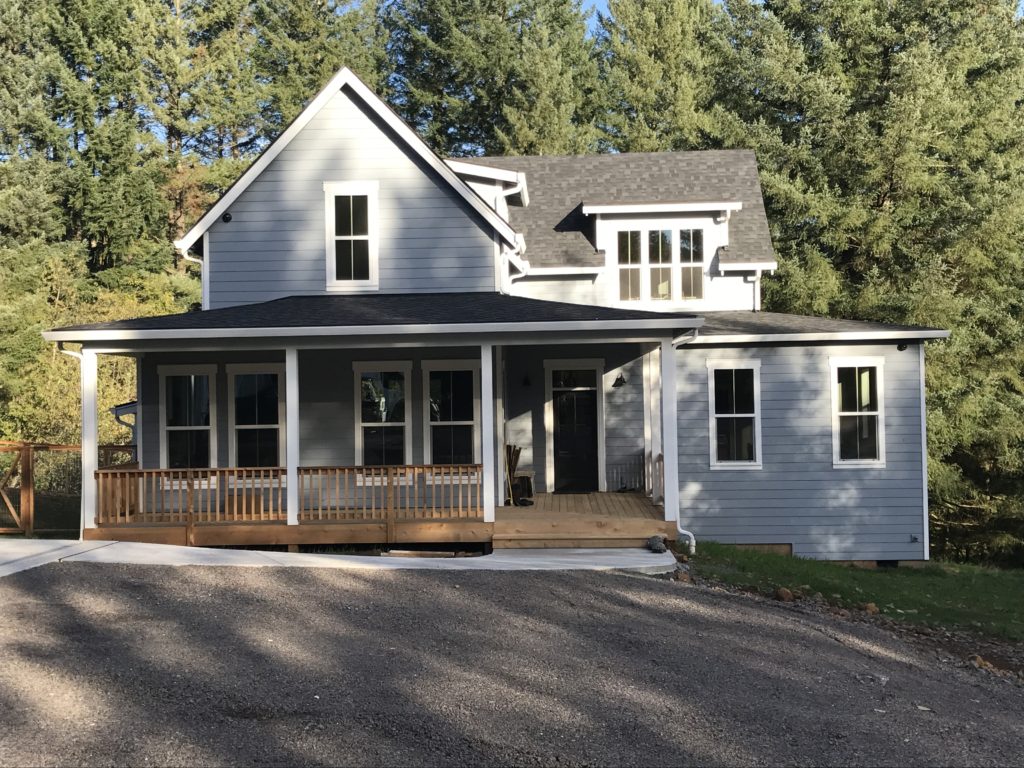 Just in Time
We had our final inspection and occupancy sign off just before September ended. Phew! Thankfully we were able to convince our landlords to let us rent for two more weeks into October so that we had time to pack. Even though we had to fork out more money, the timing was perfect and we had an entire week to move and lean up the rental…oh and get a puppy! (Yes, I'm insane).
And now onto the pictures!
Front door! We went with an alder wood and stained it ebony…it's close to black but not quite!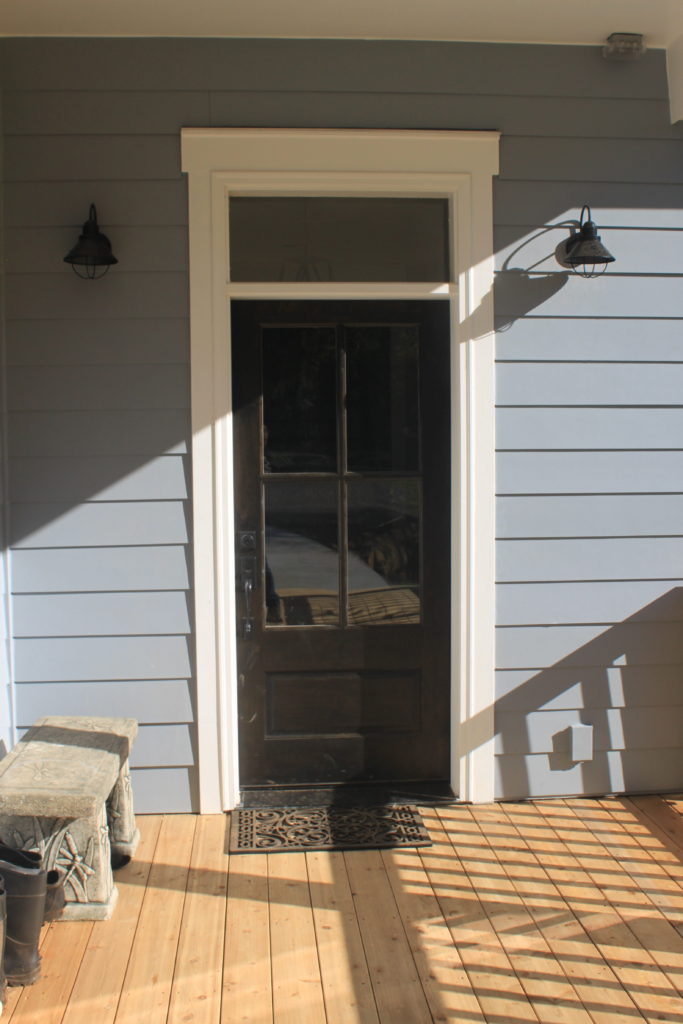 And a close up of one of the many lights we picked out (ignore the dirt…so much dirt…)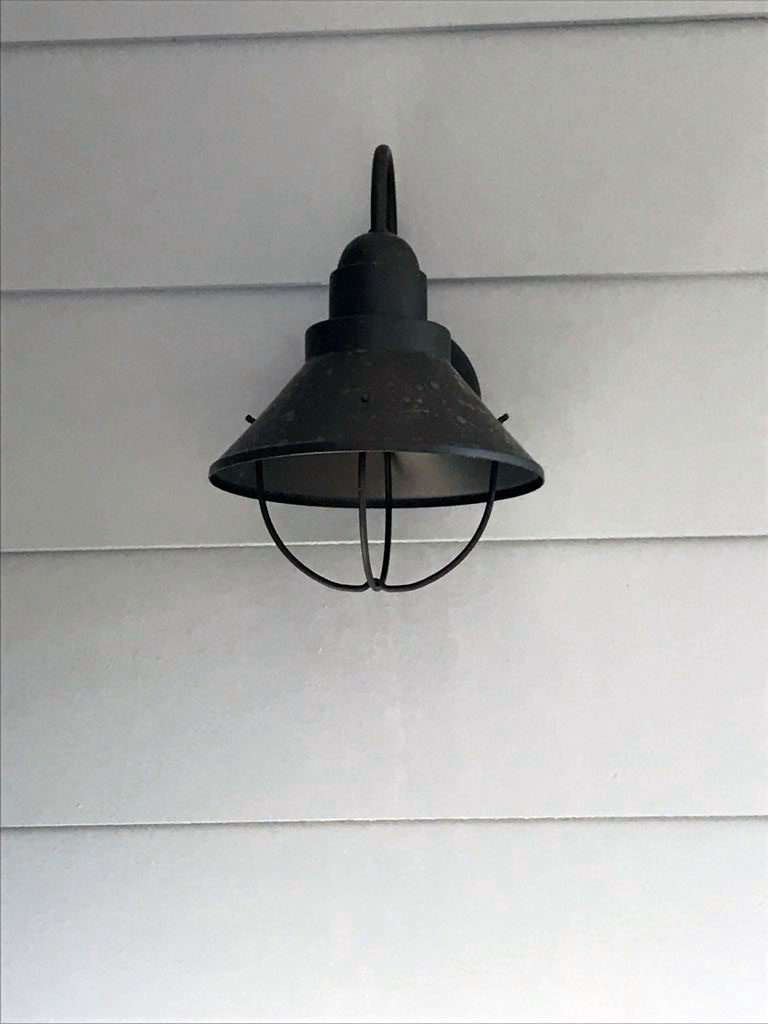 And the huuuuuge porch. We need rocking chairs. Black rocking chairs to be specific. Santa, are you listening? And a porch swing. K thanks.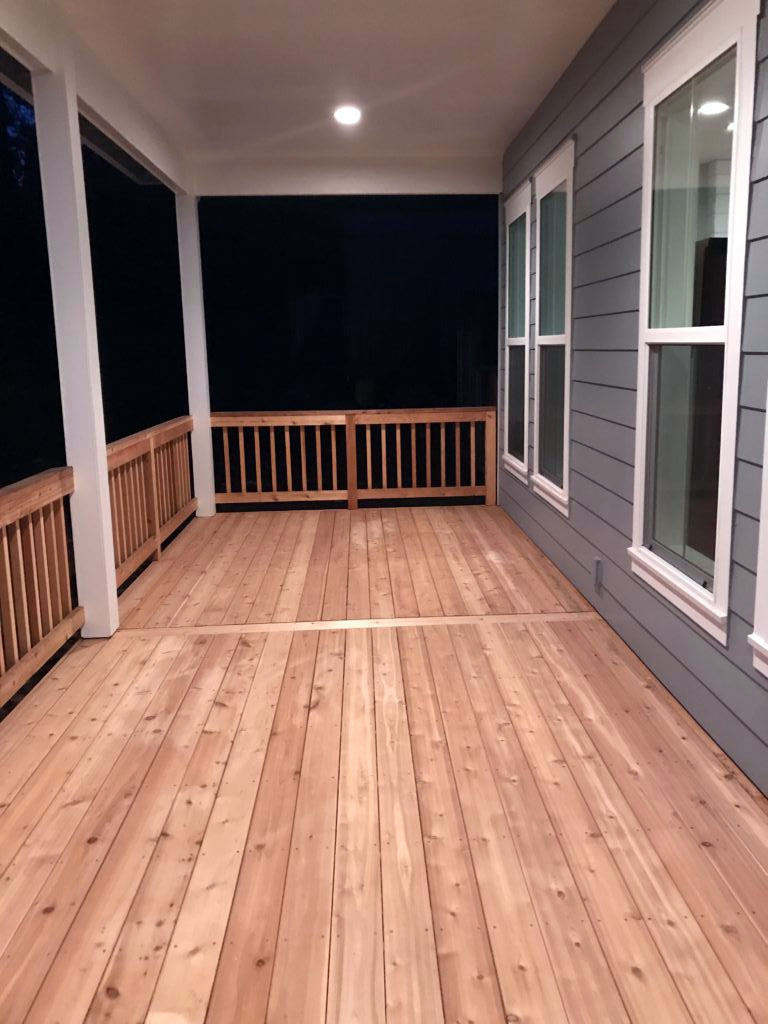 Enter Here
Facebookland, thanks for helping me decide on this light. It fits perfectly and is super bright in the space.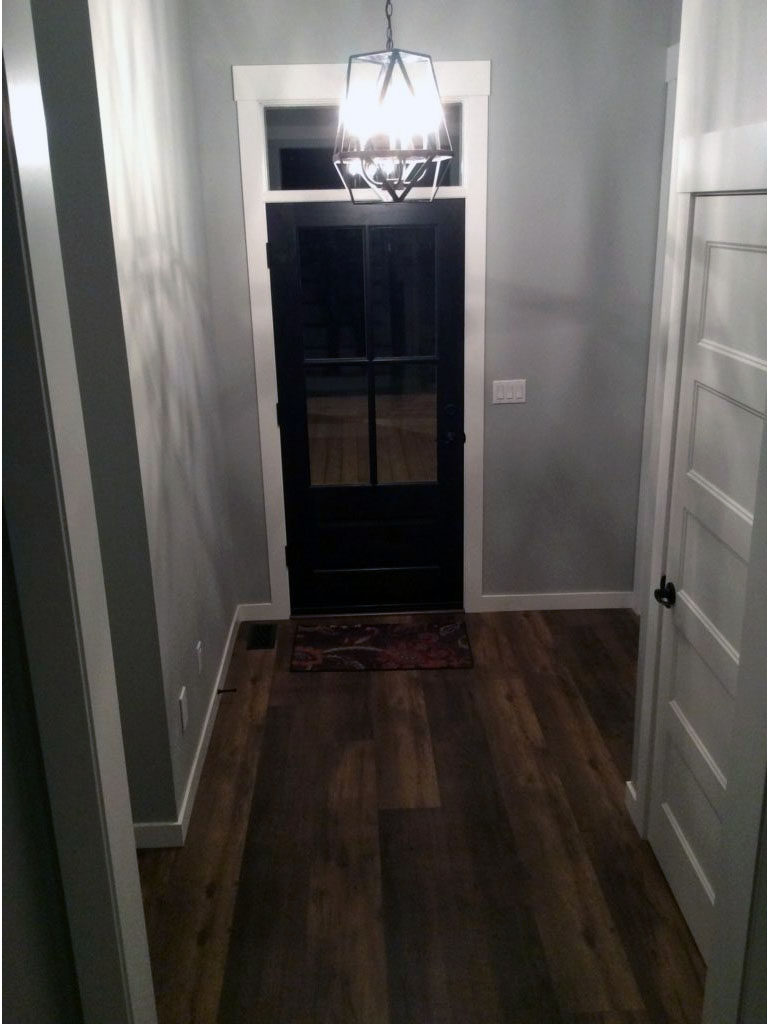 It's a great room
A view from the living room into the kitchen: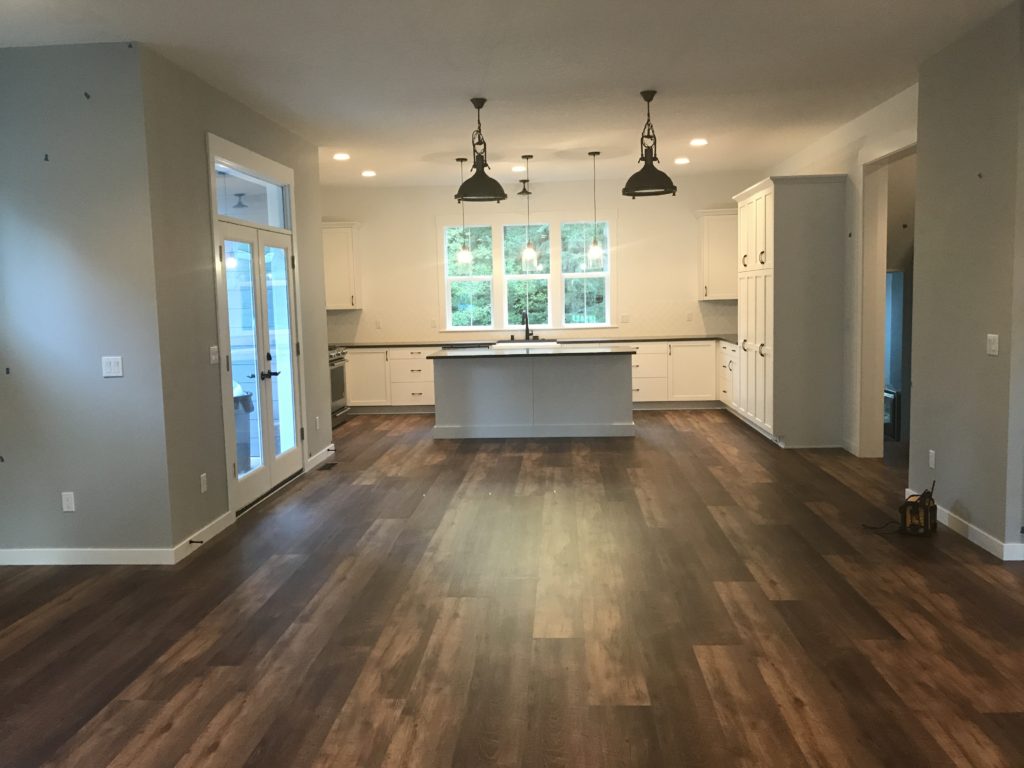 And the view from the kitchen. We wanted this great room to be as open as possible so we removed all of the nooks and crannies from the original plans. Adding the extra four feet to the living room and kitchen was well worth it. For people considering theses plans, I highly recommend the extra space. We had to keep the dining area width the same as that wall supports the upstairs. Otherwise we would have needed posts. And that's no bueno.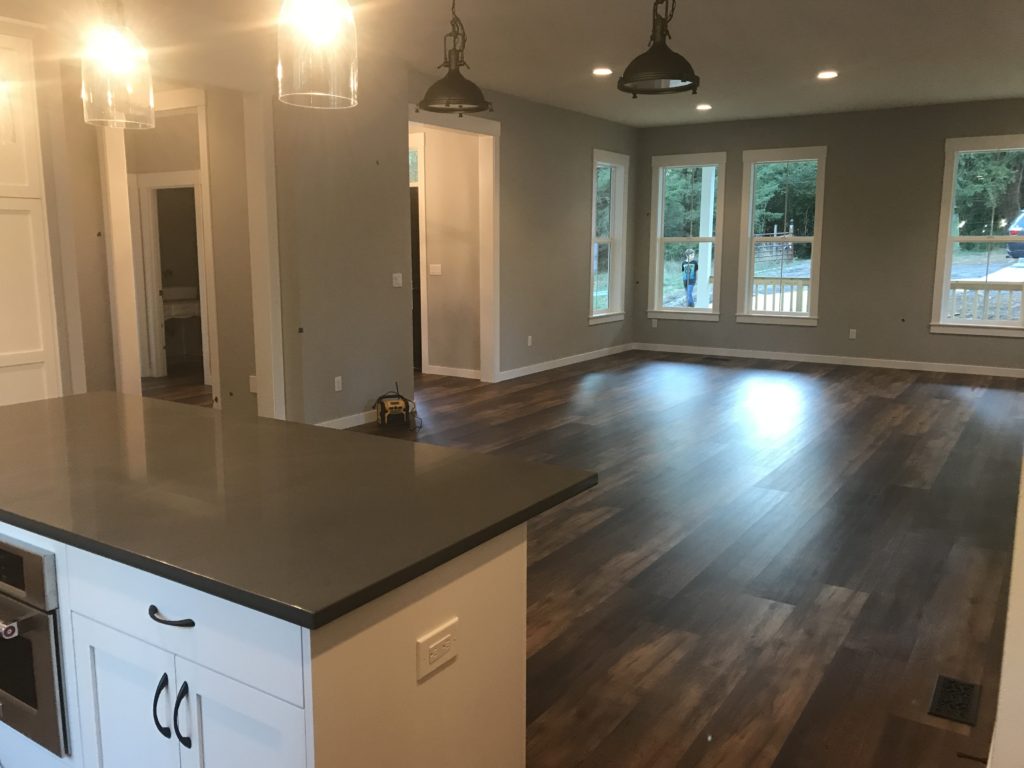 Because we added the four feet, we were able to add more windows. If you remember the pics of the original plans, there were only two windows up front. It also had French doors where we have the fifth window on the left.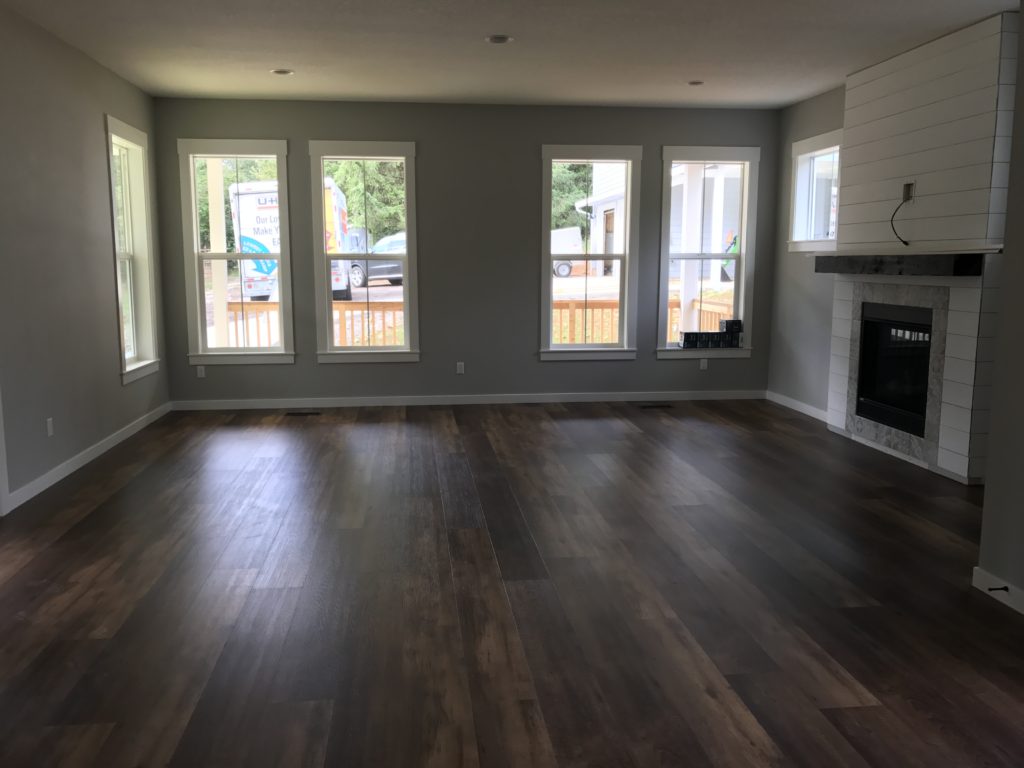 And some close ups of the kitchen finishes…we went with white subway tile in a herringbone pattern for the backsplash.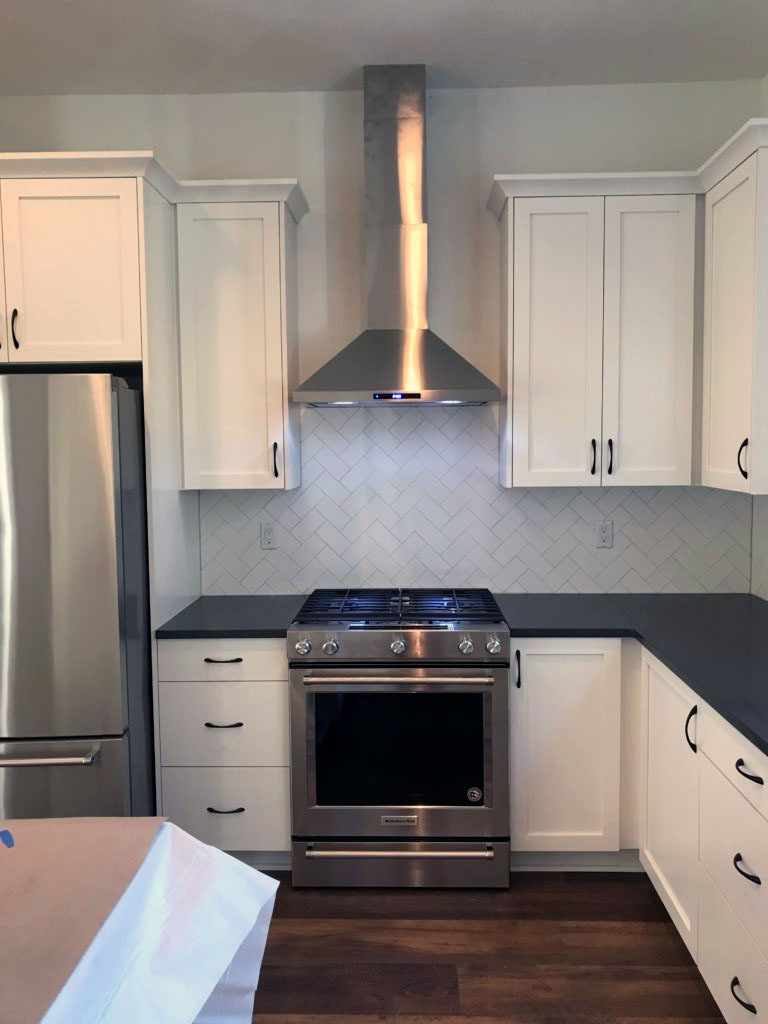 My yummy sink…and this faucet…everything.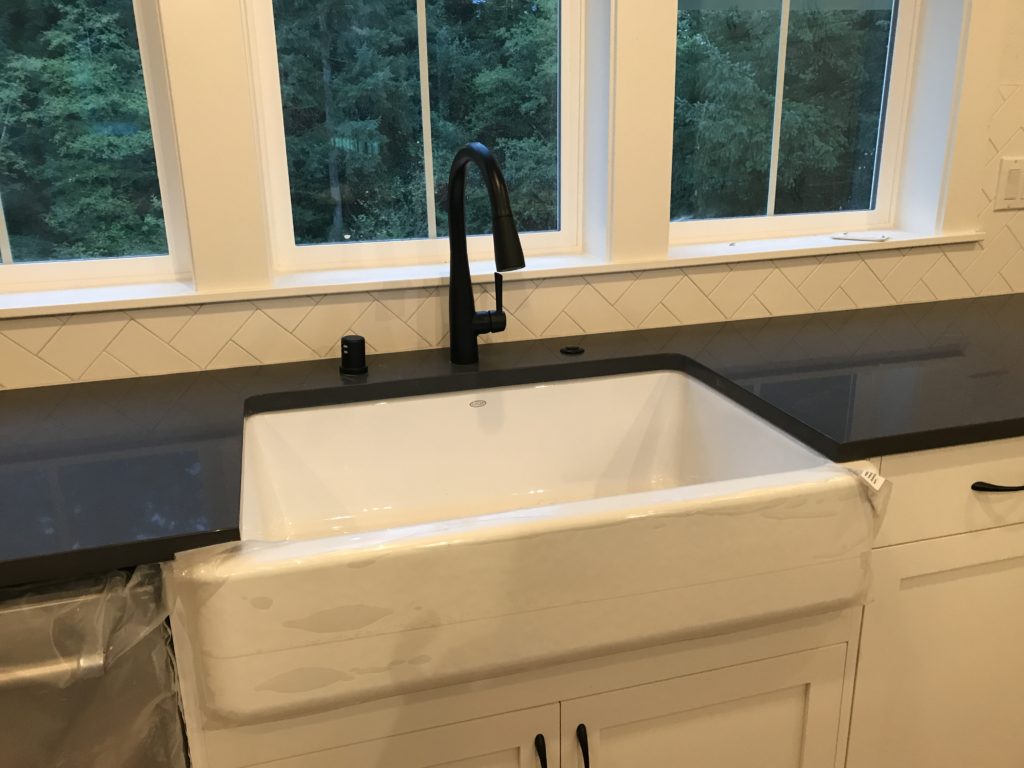 Oh the Mud(room)
On the other side of the kitchen (the wall on the right shown here) is a short staircase leading to the mudroom.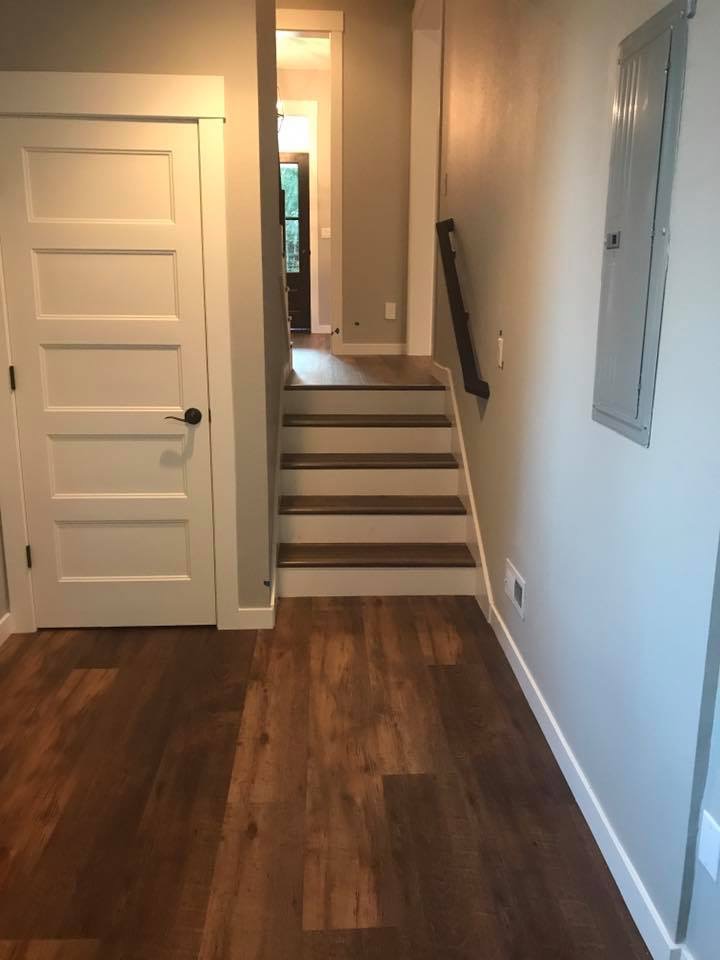 And the huge closet  next to the stairs. We need to add more shelving in here (add it to the to-do list). The bar actually comes in handy for hang drying clothes.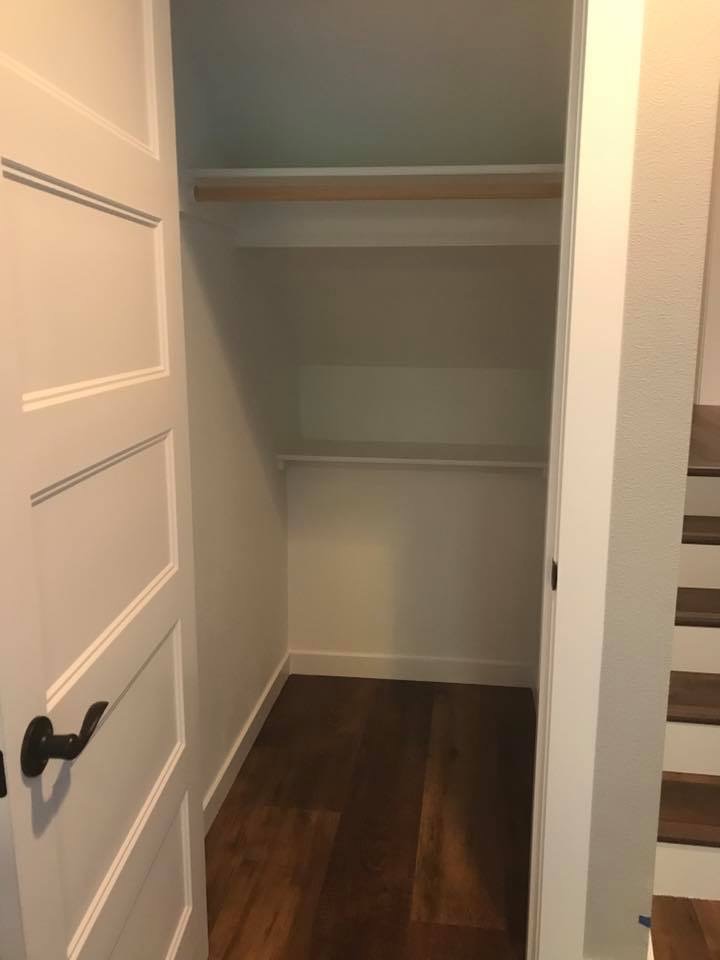 And…drum roll please…my washer and dryer are in my house! This is amazing after having to do laundry in my garage for 17 years.
Its a little chillier in this room and we're thinking it's because there's a cement foundation in this room only. We should have just had them do a traditional one instead. So if you build this house, I'd suggest that modification.
Powder Room
Remember the vanity we built? It's living with my awesome vintage mirror and matte black wall faucet now. And top mount sink.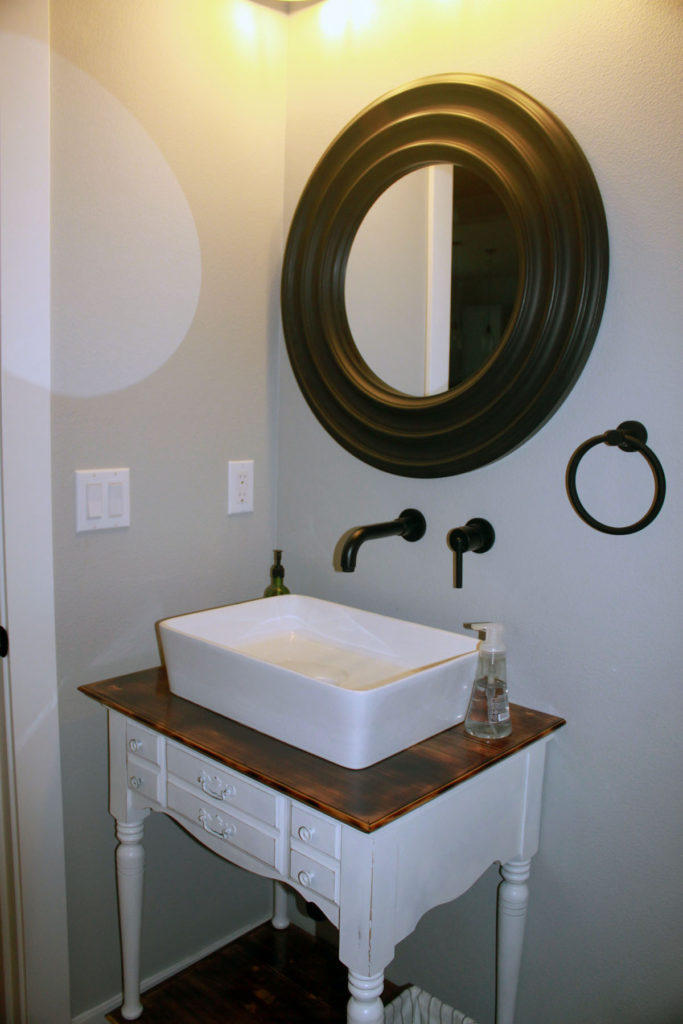 Mastering our domain
The master is awesome. This is another spot that we made modifications to the original plans. Instead of the laundry room being accessed from the hallway, we moved things around so that the toilet is where the shower was and the old laundry is now the biggest shower ever.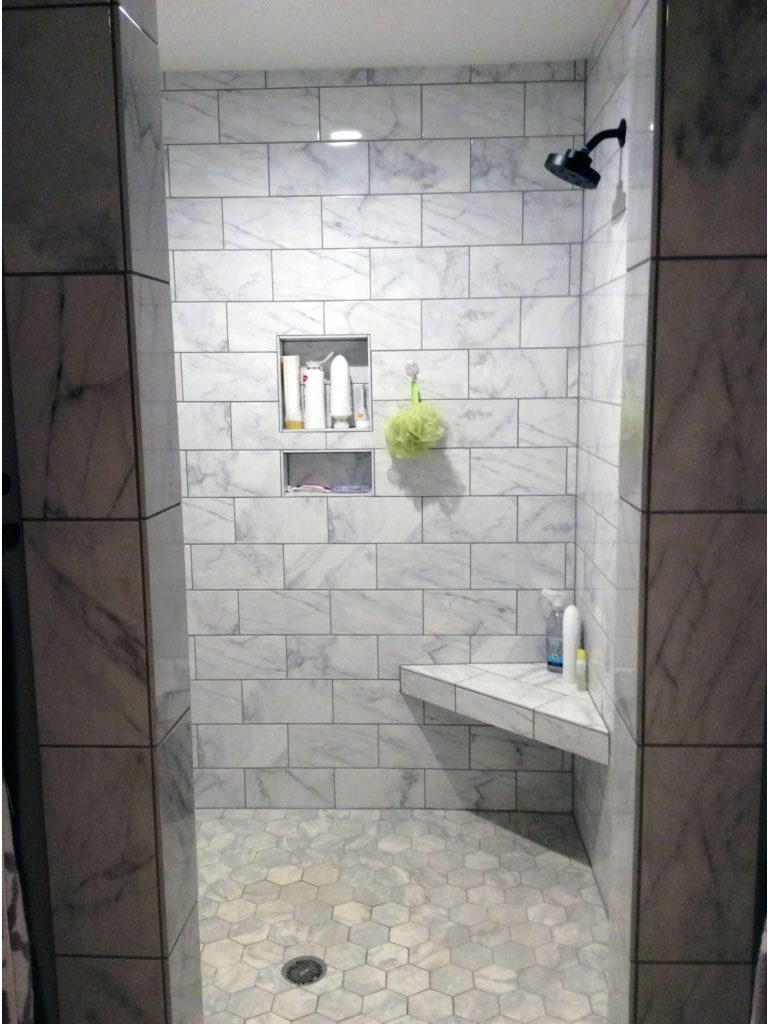 With matte black things.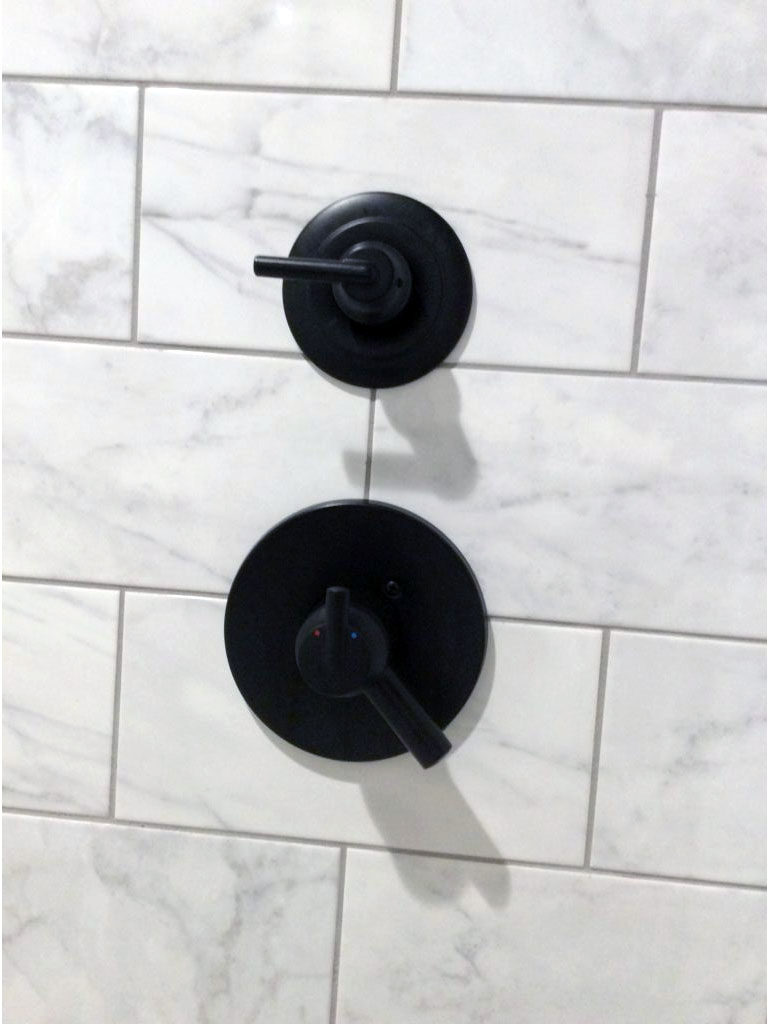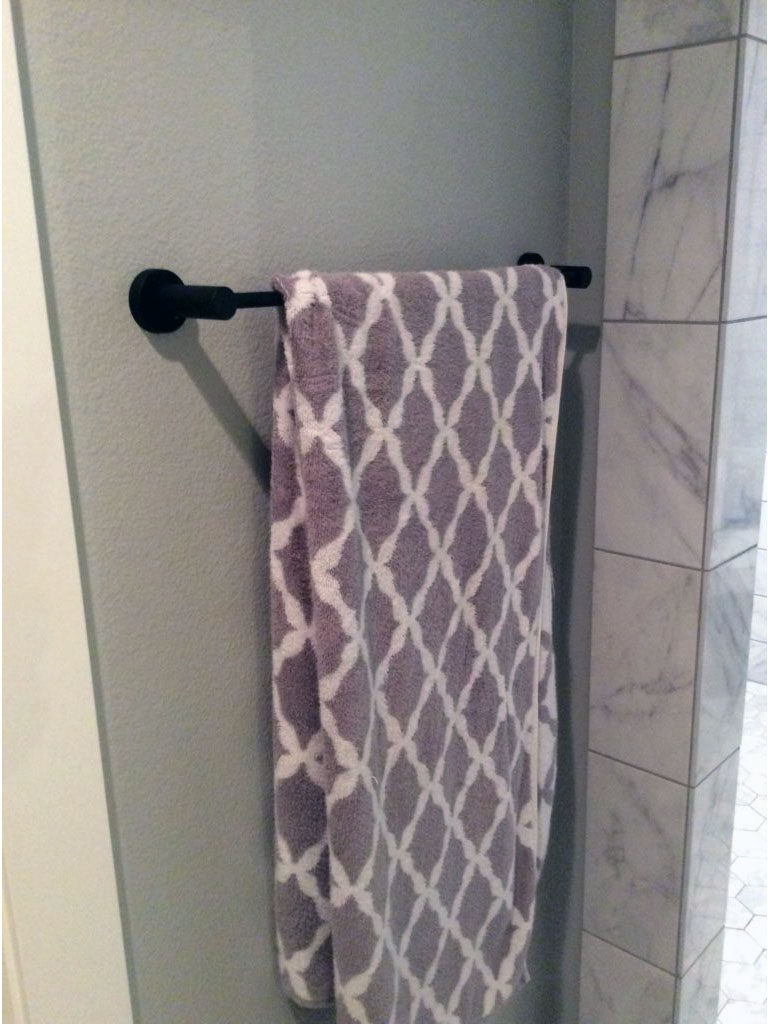 We can't forget about this tub…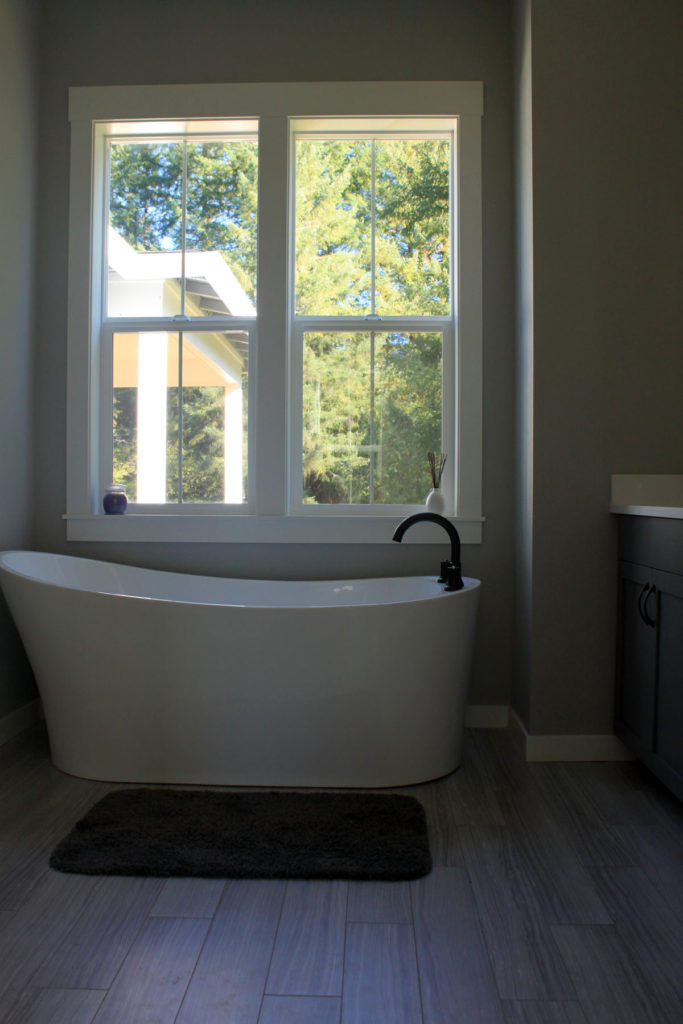 Oh and we finally have a double vanity. If you knew how small our old master bath was back in California, you'd be as excited as I am! I really love how this room turned out (and I scored on those mirrors at $15 each!). And see that vent below the vanity? That was an accidental happy as it blows hot air on your feet when you're standing there. We have one under the kitchen sink too.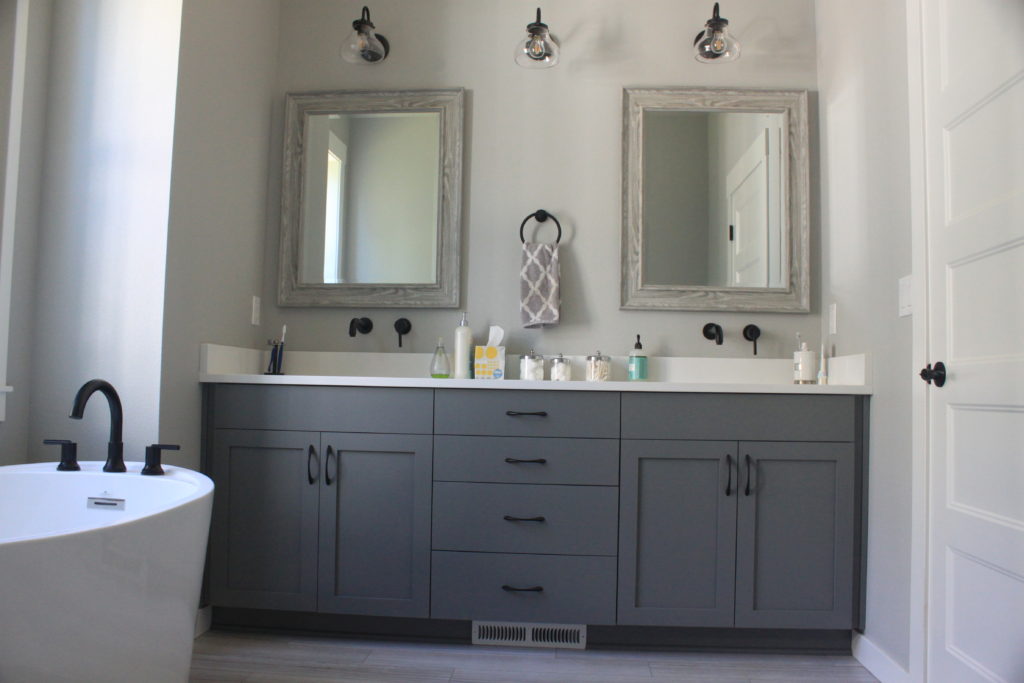 And would it really be a farmhouse without a barn door? I'm so glad we put this on the closet…we lose some wall space but gain so much without a traditional door.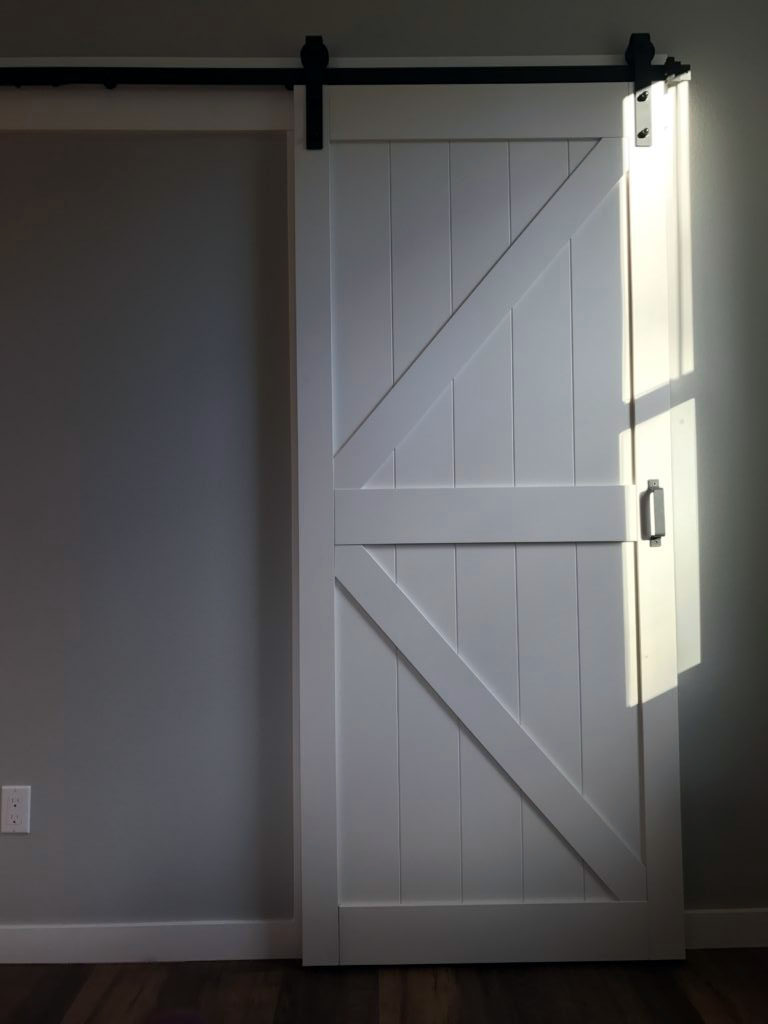 It's really hard to capture how big this room is, but this is a Cal King bed with plenty of room on each side. I can't wait for all of the boxes to leave the room…I might even be able to fit a chair in the corner somewhere.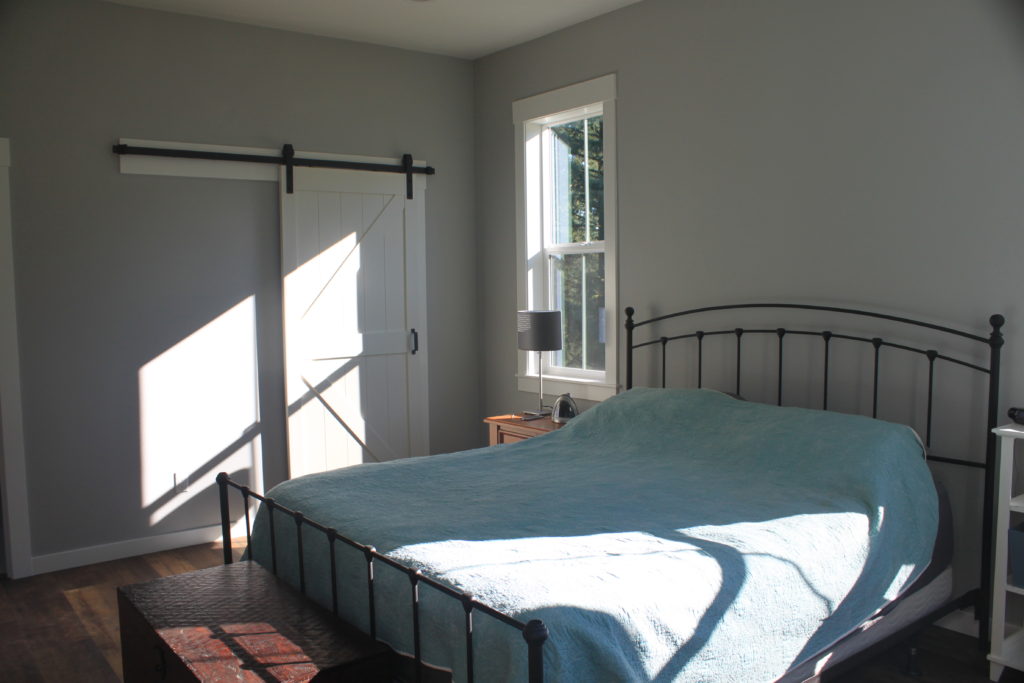 Stepping Up
The buildrs thought I was crazy every step of the way (haha…punny). Why would you want stairs without carpeting? Metal posts aren't really a traditional farmhouse look. Don't you want wood? That wood is almost black. A white riser will just get dirty (well, that was Jim). Are you sure you don't want carpet on your stairs? Well, yep this is exactly what I wanted!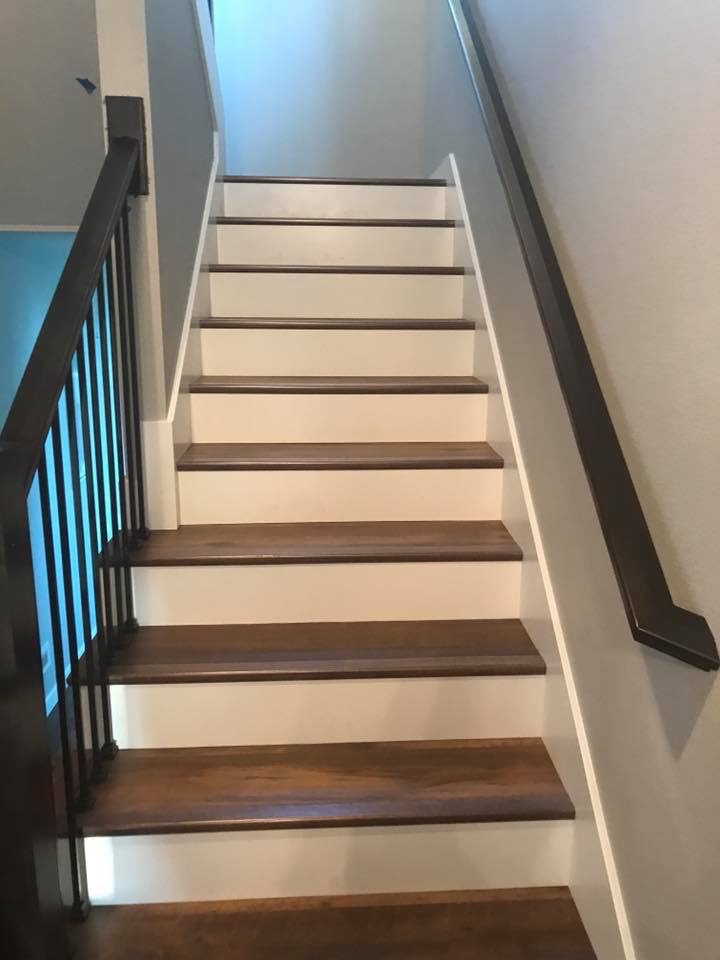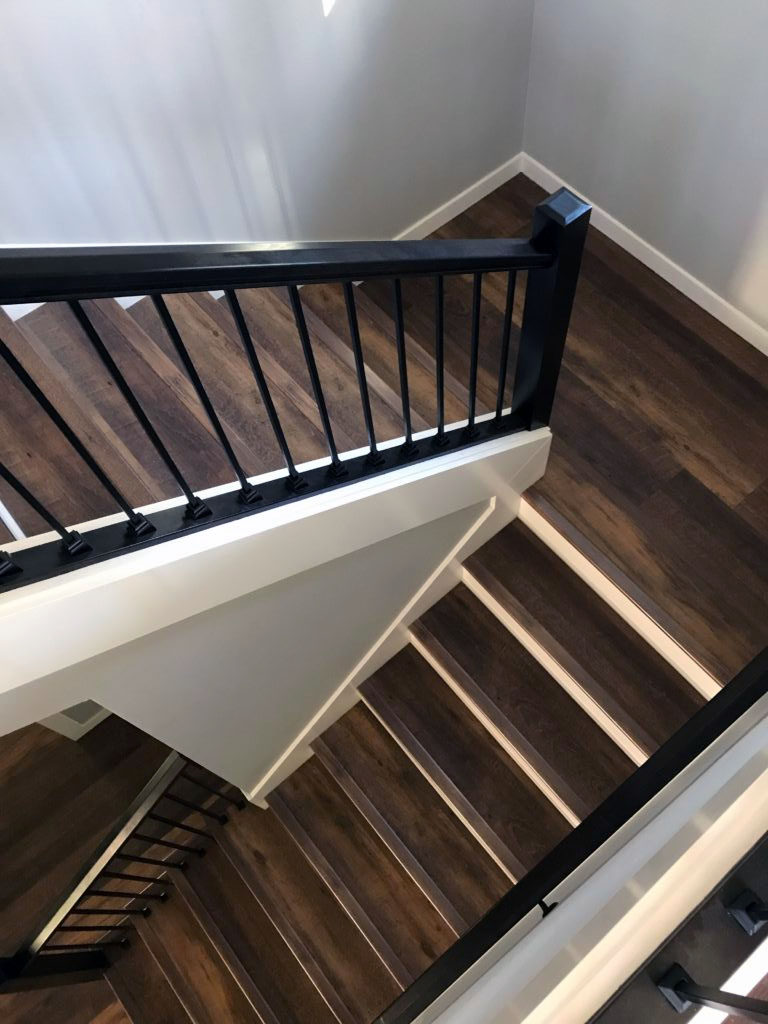 They lead up to the open loft where we removed all of the closets and utility room since we were able to put all of the equipment underneath the house.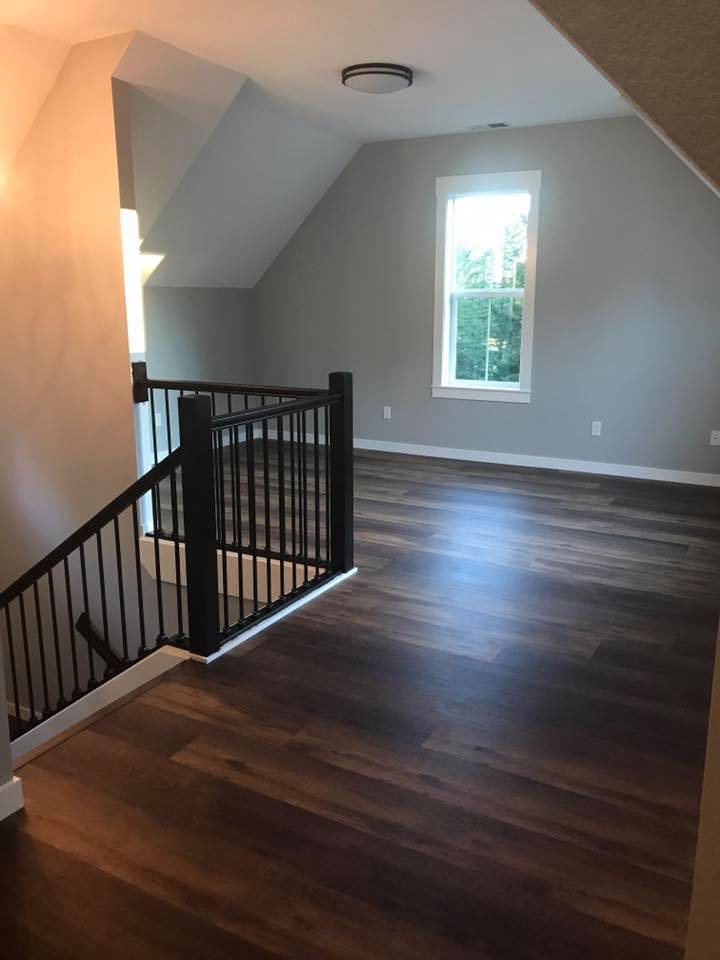 Big boy rooms
One of the reasons we picked this plan was how big the rooms all were. The boys had 10 x 10 rooms back in California and we knew that they'd need much more growing room than that. These are huge complete with their own bathroom each.
Mason's room-that rug used to cover most of the floor in his old room.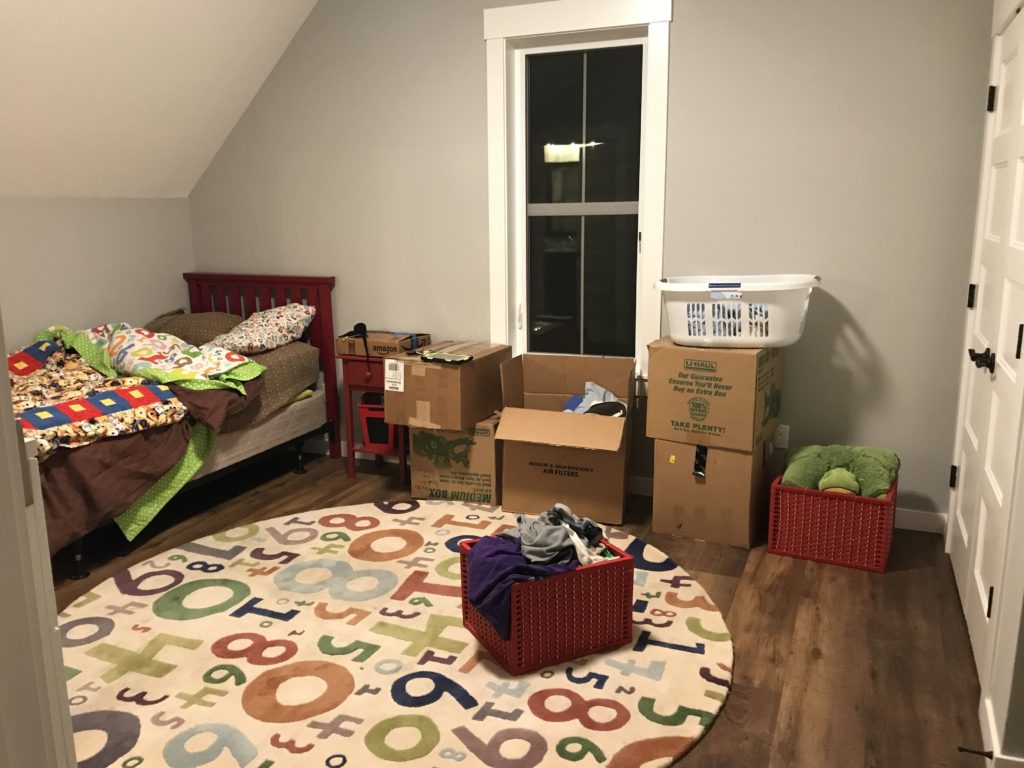 And Matthew's room…that's a full bed over there. We need to get this boy some furniture!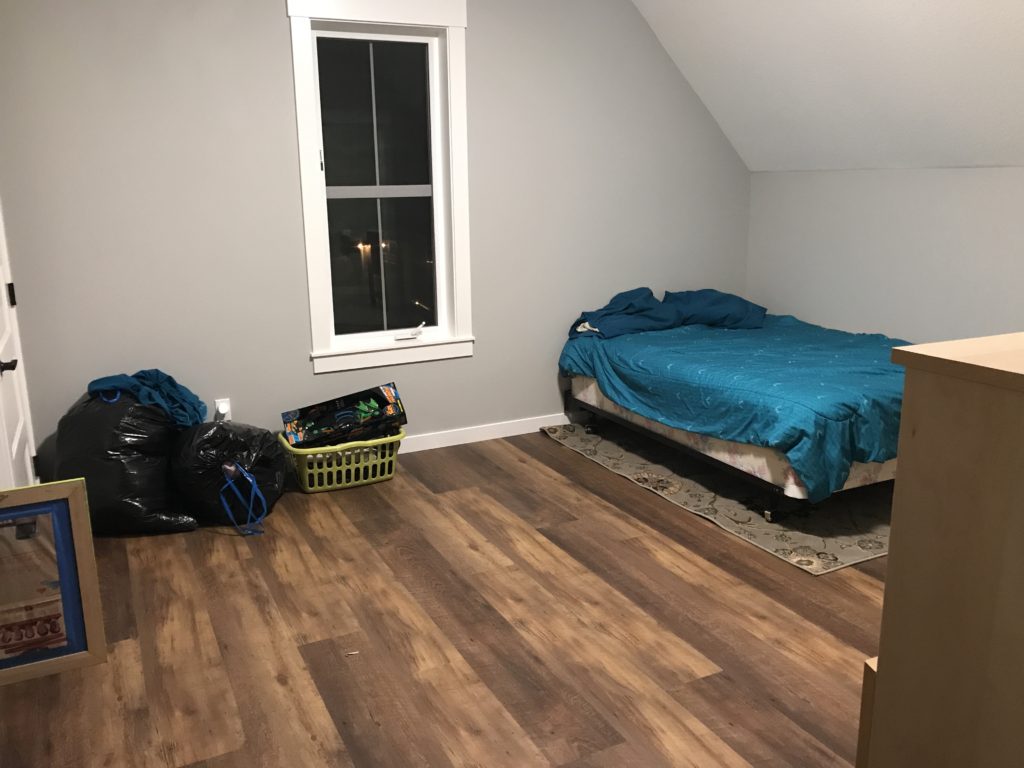 Stay tuned for room by room projects and pics! We've got a ton to do!