The clock is ticking
For land sales, there is always a 2-week due diligence period where the buyer can go to the county office and check records on the property. That's a pretty easy thing to do…if you live nearby. We, however, do not. So it took a planned trip up there. As much as I wanted to go and be able to see the land in person, it just wasn't feasible for both of us to go up there. The kids had summer camp all planned and paid for and the dogs needed watching. So Jim ventured off on his own (well after we dropped him off at the airport at 5am).
Once Jim got up there, he went straight to the county office in Vancouver – our realtor met him there. He checked to see where we can build on the land, the required set backs, and if there were any environmental restrictions. I guess the property is in a restricted habitat zone because of the creek that runs through it but doesn't pose an issue with where we wanted to build anyways. We just can't disturb the naturally created creek area. Fine by me!
Now the problem…because things never go smoothly…apparently there is no legal lot determination on file with the county. What does this mean? We're still trying to figure it out. A legal land lot is different from a legal tax lot (ie: paying property taxes). Just because it's a legal tax lot does not make it a legal land lot that can be built on. Without this determination, we can't get a guarantee that we can build on the land when we're ready to. So in order to get a guarantee, we have to pay for this determination which takes about 3-4 weeks. So that wasn't the best news.
Land ho!
After the county office, Jim went over to check out the property…an immediately started sneezing. He walked the property with the realtor and took tons of pictures and videos. Here's a great panoramic of the property from one of the corners.
Here's where the house would be built. On this side of the property, there are roosters and chickens next door. Jim went over and chatted with the neighbor who's lived there for over a decade. She raved about the schools and has 5 kids – two of which are boys Matthew's and Mason's ages! How perfect is that?!?
He was able to get on the other side of the creek and sneeze some more. We wouldn't be able to build anything over there but it would be a fun playground for the boys. And I can totally see us building natural steps and a bridge down the slope, across the creek, and then up the other side.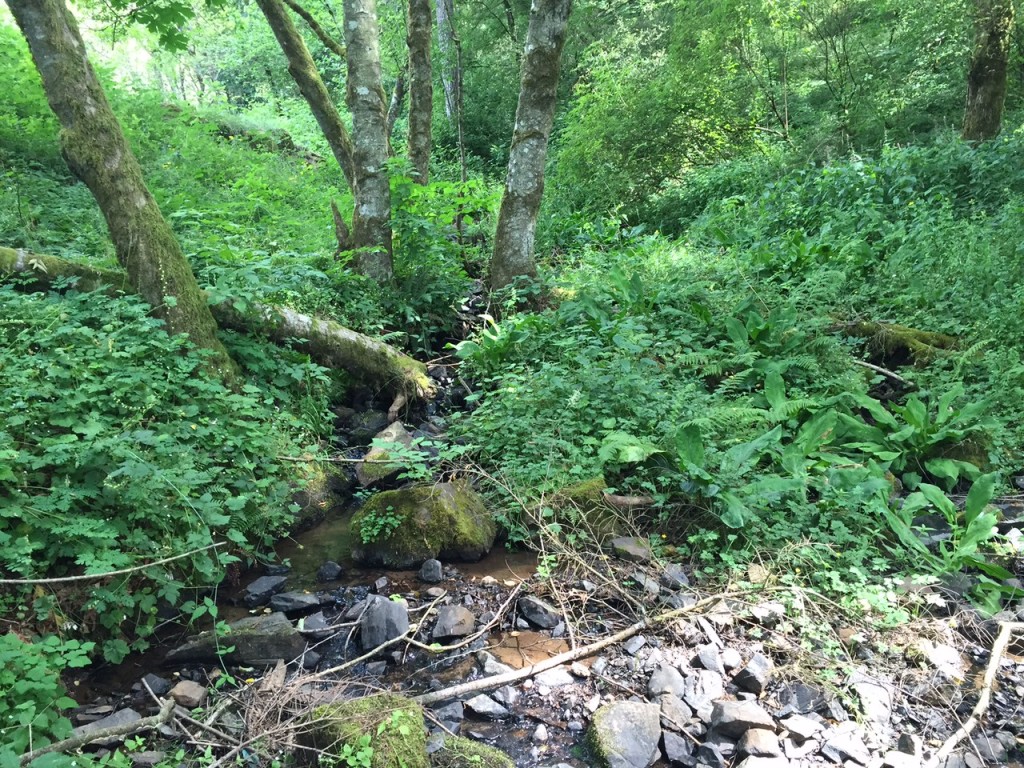 That afternoon, the well testing company came to test how many gallons of water are pumped a minute. When the well was first installed, they recorded 12.5 gallons per minute. They pumped the water for two hours and it stayed consistent at 11 gallons per minute. That's not bad at all for a 35+ year old well & pump. Now for those who are in California, gasp with me when you do the math. 11 gallons PER MINUTE for 120 MINUTES. Just pumped onto the land. I may have cried a little when Jim told me. My lawn is so dead. Sigh.
Once the pump test was done, Jim rushed back to the airport to make his flight back home. Now this is the fun part…everyone we've talked to in Oregon and Washington said, "Oh that bridge gets sooo crowded during commute times." "There can be a lot of traffic." etc. So Jim went across the bridge back to the airport at about 4:30. WITH NO TRAFFIC! Apparently Oregonians and Washitonians have never commuted in California. I'd trade any day.
More Decisions
With Jim home, we've had to decide what to do and keep going back and forth. At one point we both said "I'm so frustrated…let's just walk away." But we've put so much effort (and expense) into this property and it really is perfect for what we need, I'd hate to just give up.
But tomorrow is a new day so we'll see what happens…