And in with the new(ish)…
We quickly realized that a lot of what fit at our old house in California didn't really fit into the new house. Both size and style. What does that mean??? Shopping!!! I may or may not have started collecting things while living in the rental. To my defense, I only bought things that were an awesome deal. Until Jim said no more. Party pooper.
Italian to Country
When we moved into our house at Gosford, we bought a fancy grown-up Italian table. It had frosted glass and doubled in size when we needed it. Most importantly, it survived two boys which was amazing. The poor thing took a beating. Here it is in all its house-showing glory: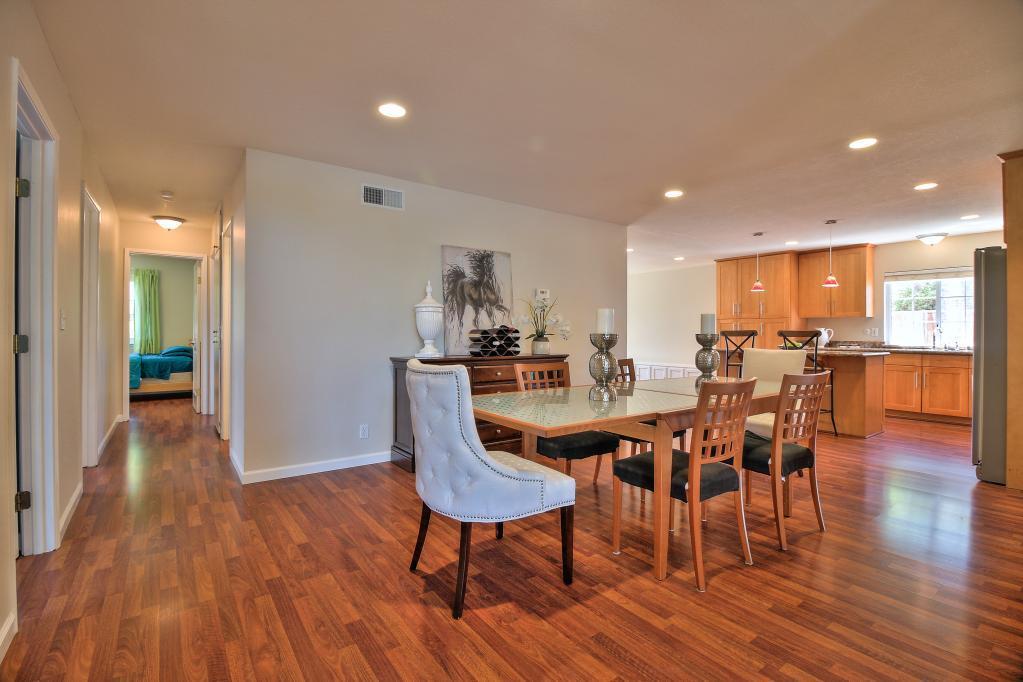 Minus the end chairs…those were for show and would never hold up to two boys.
Alas we said bye and passed on the table to a Portland family that showed up in a minivan….and four people. Somehow they managed to fit the table, two armchairs, four regular chairs and four people….true story.
And now the replacement…we found these farmhouse table plans on Pinterest. We totally agreed that we needed to make an 8 foot long one as it would be perfect for the space. So when I found one for sale on the Facebook marketplace that someone had already made from the same plans, I was sold! And so was Jim…because he didn't have to build it.
Ta da!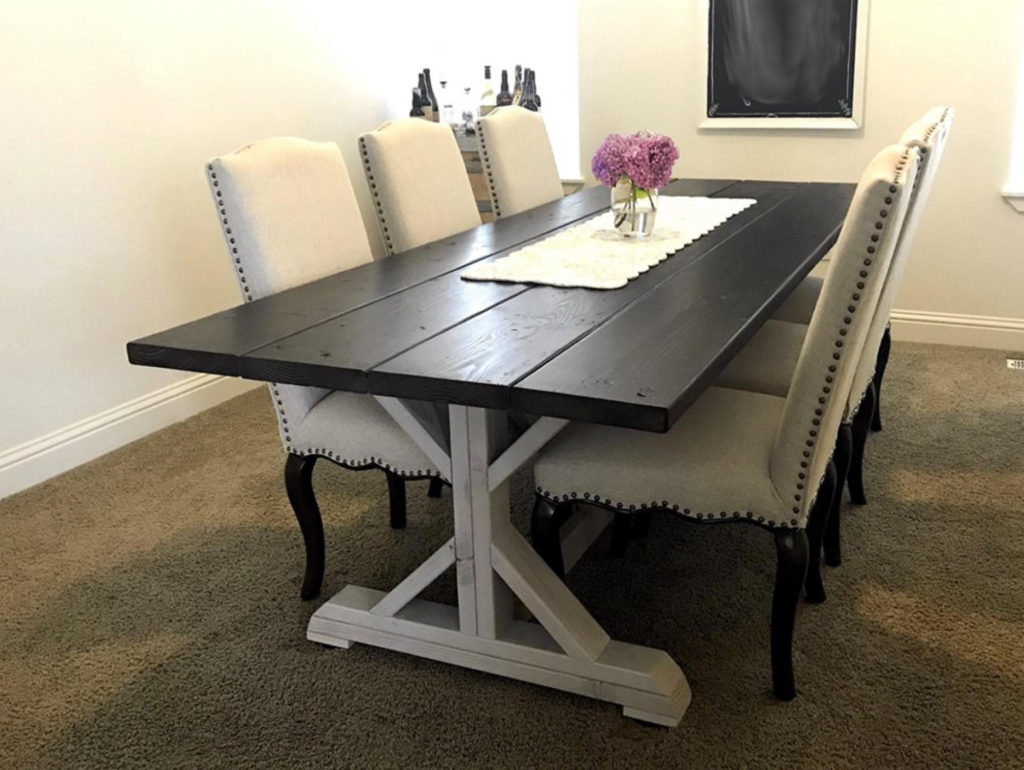 It was almost perfect and just needed a a little bit of work on the base. I added a nice coat of leftover white paint from the kitchen and then distressed a bit with sandpaper.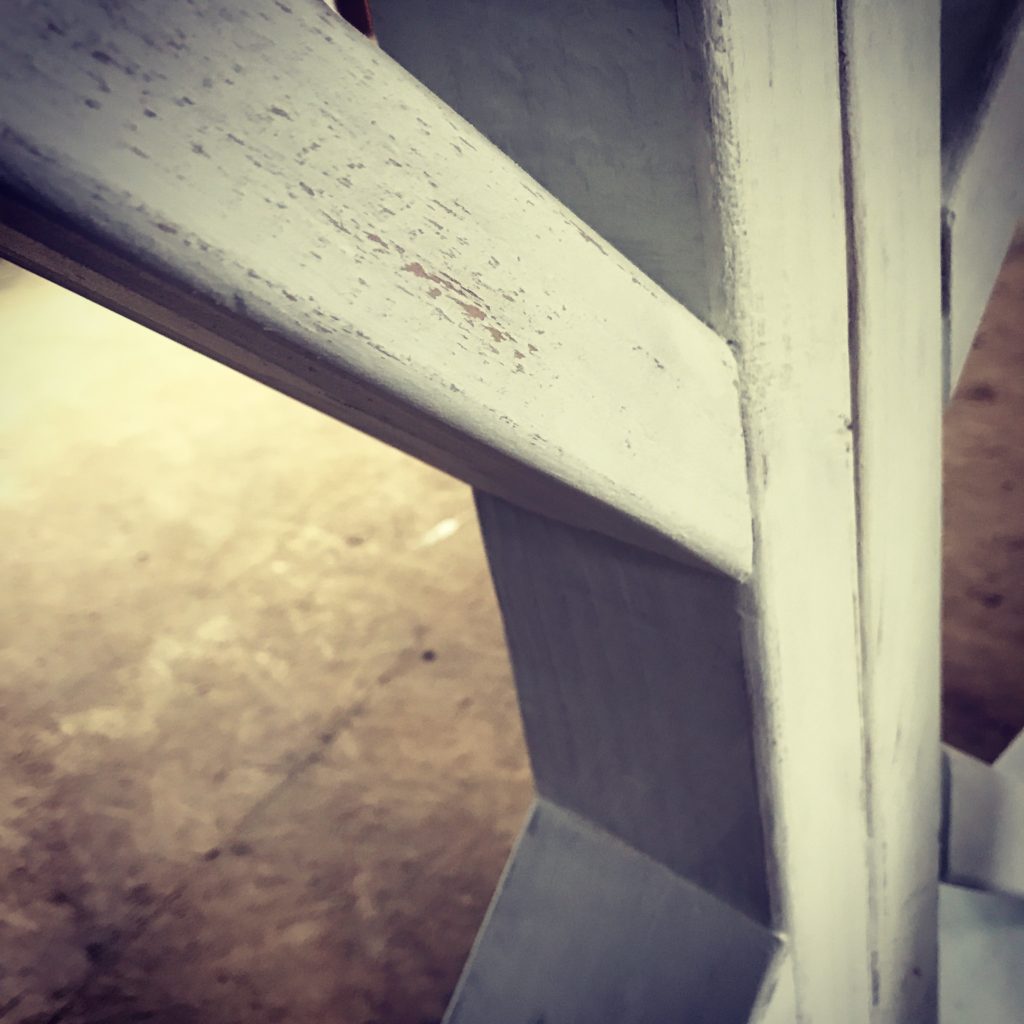 And all put into place!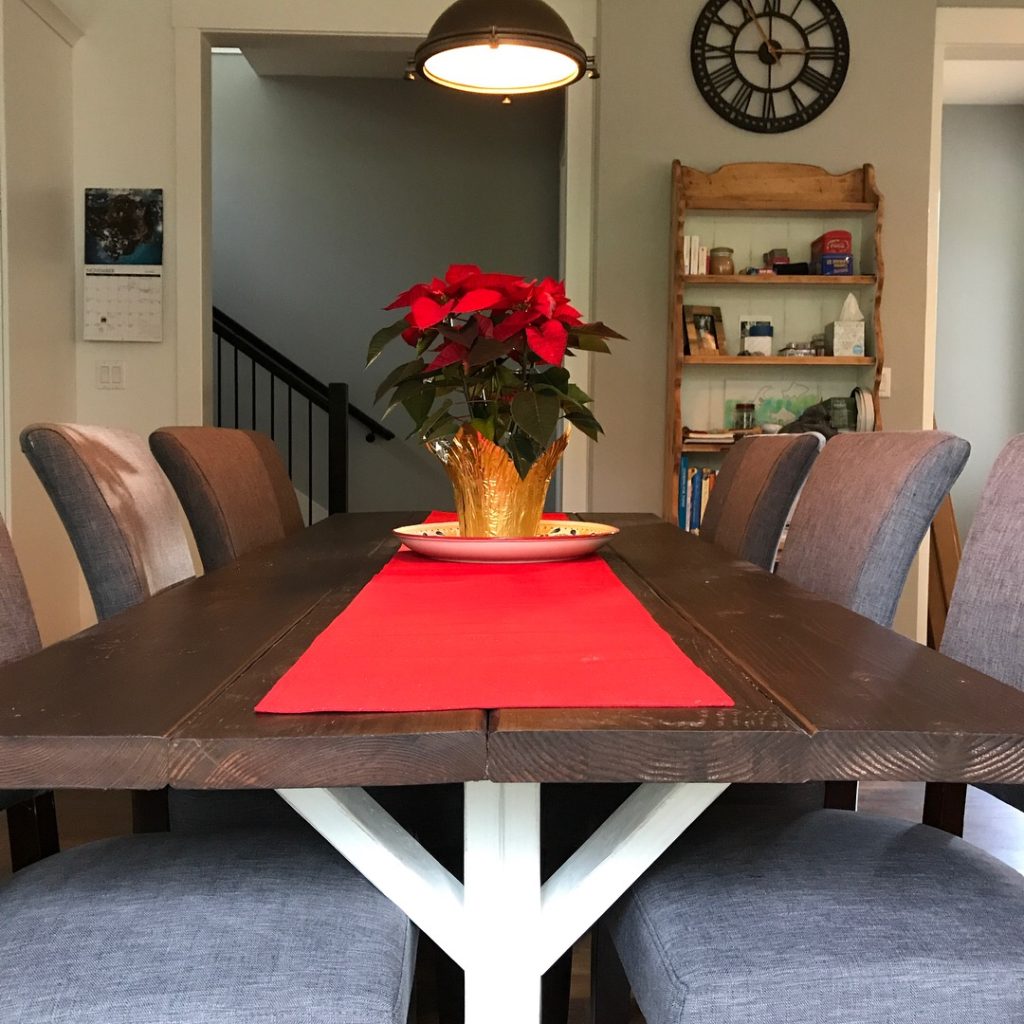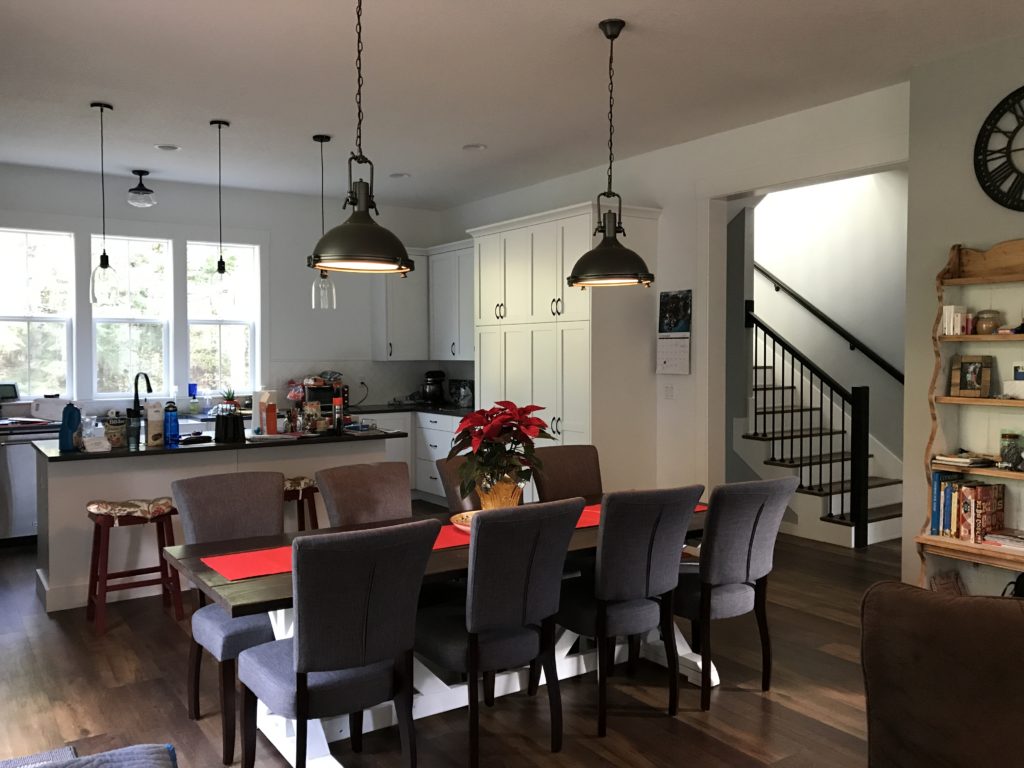 Now my decision on the light fixtures makes much more sense, right? Oh! And I almost forgot about these chairs. They were another local Facebook marketplace find and fit in just perfect even though I bought them a good six months before the table. I must be psychic. No, not psycho. Well maybe a little. But they were only $30 each brand new!
That shabby chic shelf off to the right was a craigslist find that was supposed to fit perfectly in the master bath. Well, I forgot to account for the door trim so that was a no go. Thankfully this wall just neeeeded a tall shelf.
Crafty Stools
So not every Facebook marketplace purchase has been awesome. I came across these three bar stools for $40 which was a great deal because I'd recover them anyways. (See the nasty stains?)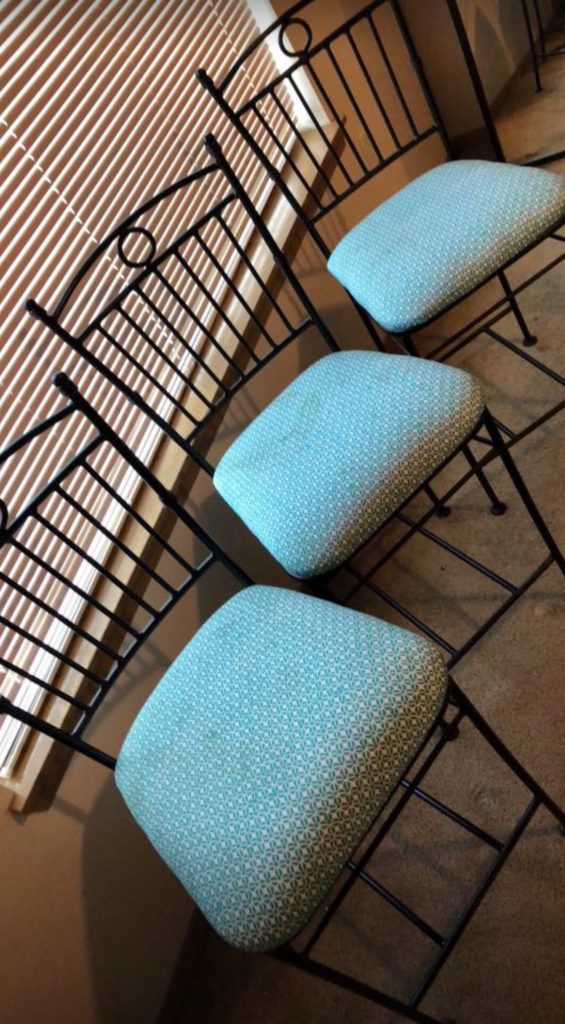 Once we got them in the truck to drive away, we realized they wreaked of smoke. No wonder they had all the windows and doors open in the apartment…
So what was done was done and I just needed to work with it. The original plan of just covering the existing fabric with new fabric was no longer viable so I started taking out all of the staples to remove the old fabric. Then I quickly realized that the batting underneath was just as gross. So more staples came out. I'm sure you could imagine what came next. The pad! It was so gross so that went too. But I decided the plywood base was fine enough.
So I got new chair pads and used the base to trace and cut out new pads. Then I used some spray adhesive to glue in place.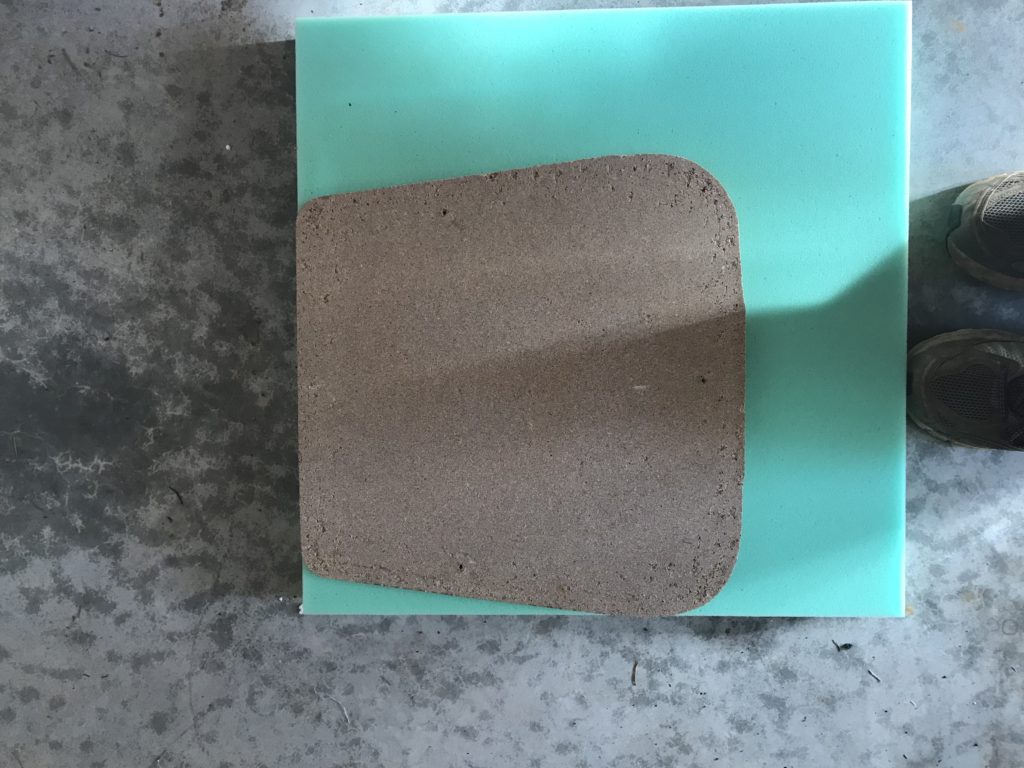 Then I stapled some nice clean batting over the chair pads.
The next step was the most difficult step. Deciding which fabric to use. I changed my mind at least four times but finally settled on the upholstery weight one that would hold up the best. And I'm all about a bold pattern! Decision made and stapling commenced.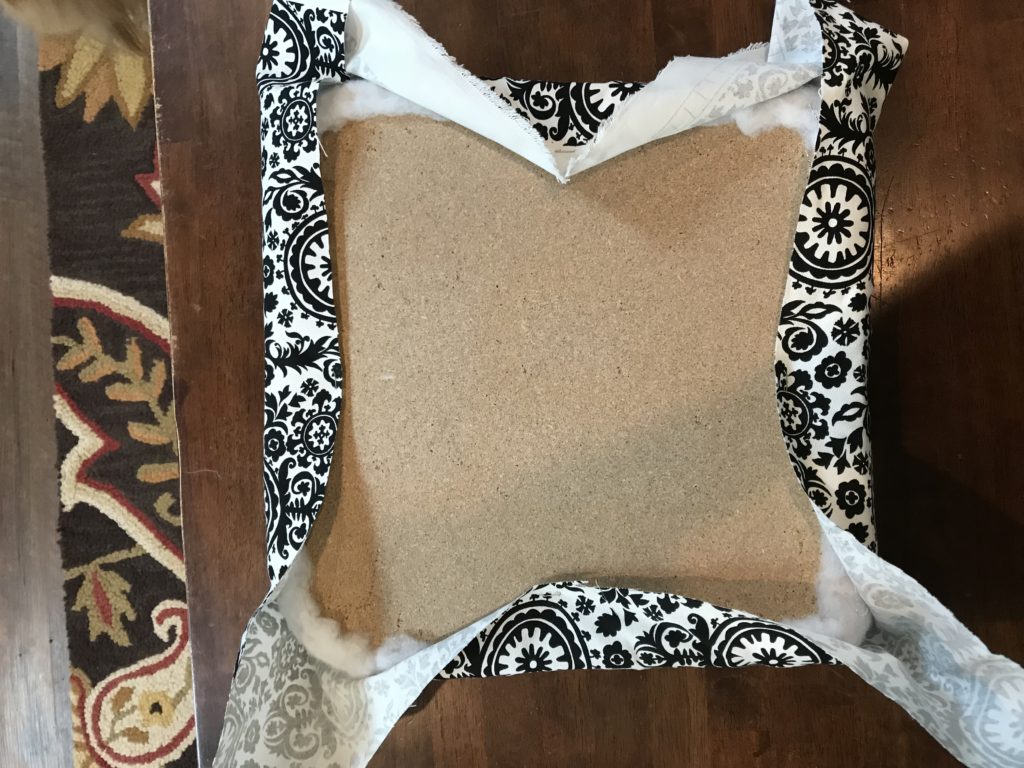 So much better…and no stains!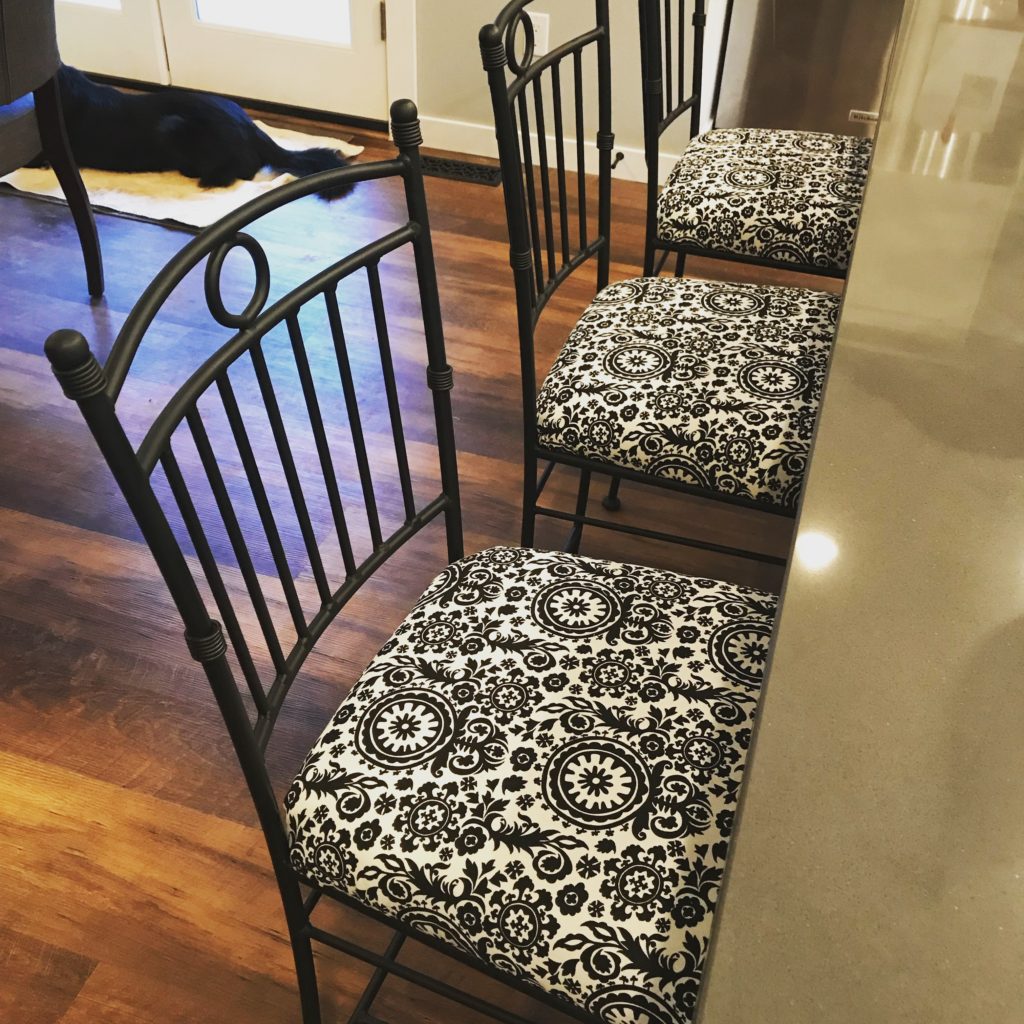 A Grand Piano
I grew up with a piano but never took lessons to learn how to play. But I've really always wanted a classic upright piano. They are always listed for free in various conditions….the catch is how do you move it? Those suckers are heavy. So once we were settled into the house this super pretty black upright piano was listed for free in a local swap group. It was just over in Camas so it was possible – I just needed to find someone to move it for me. Craigslist to the rescue! I swear you can find anything there. Once I got a price to move it, we went a took a look. Thankfully it was just in their garage without any stairs. The piano was made in the early 1900s and survived a church fire in Oregon. It definitely had character. And then it made its way to my house that weekend and fits perfectly.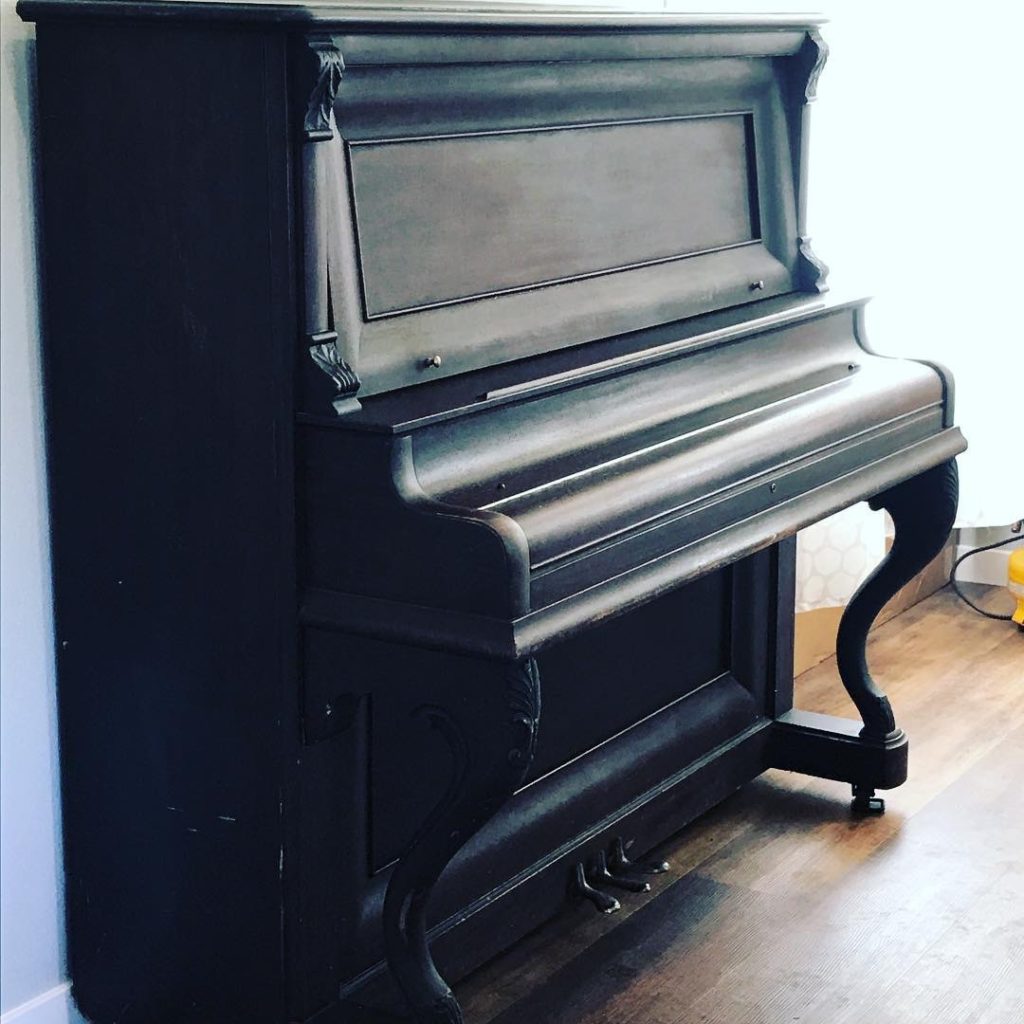 And now we have a kid learning to play the piano with a pretty cool teacher that comes to our house. He also found us this awesome bench on a local swap board and even picked it up for me! If you live in the area and need a music teacher, check out the Washougal School of Music!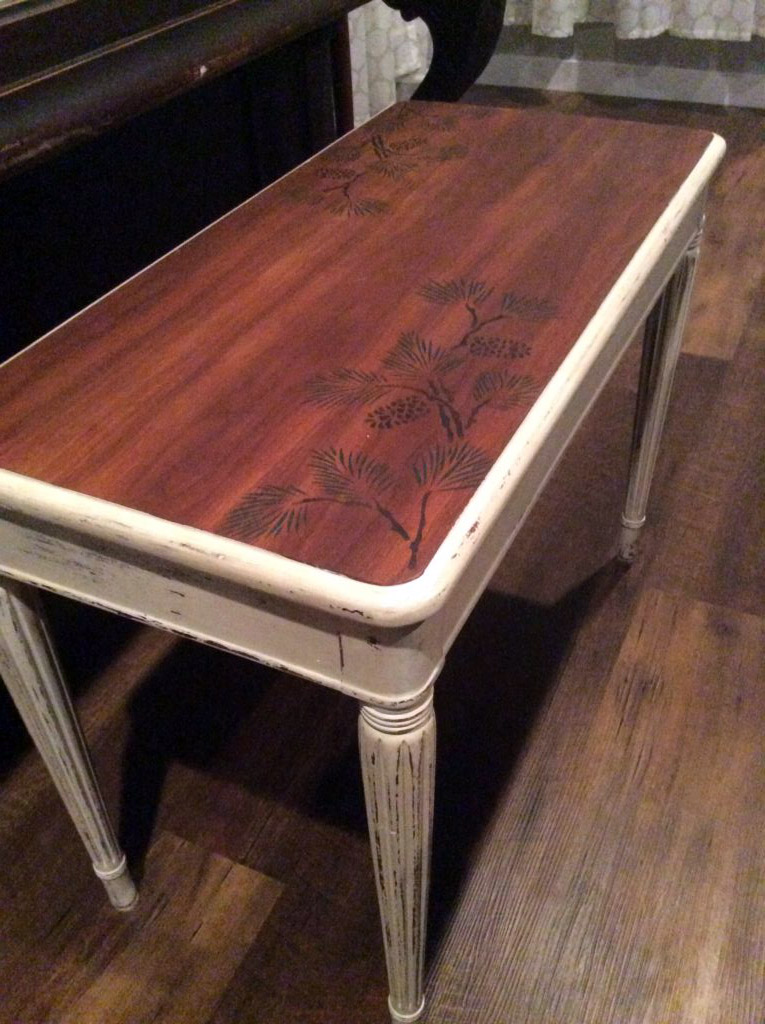 Storage
We had a lot of storage furniture in the old house but none really fit right in the wall space we had to work with. I guess that's the only downfall to all of the wonderful windows we have. We had thought about adding built-ins to either side of the fireplace but didn't account for the window in the corner. Instead we found these great cabinets at IKEA with sliding class doors.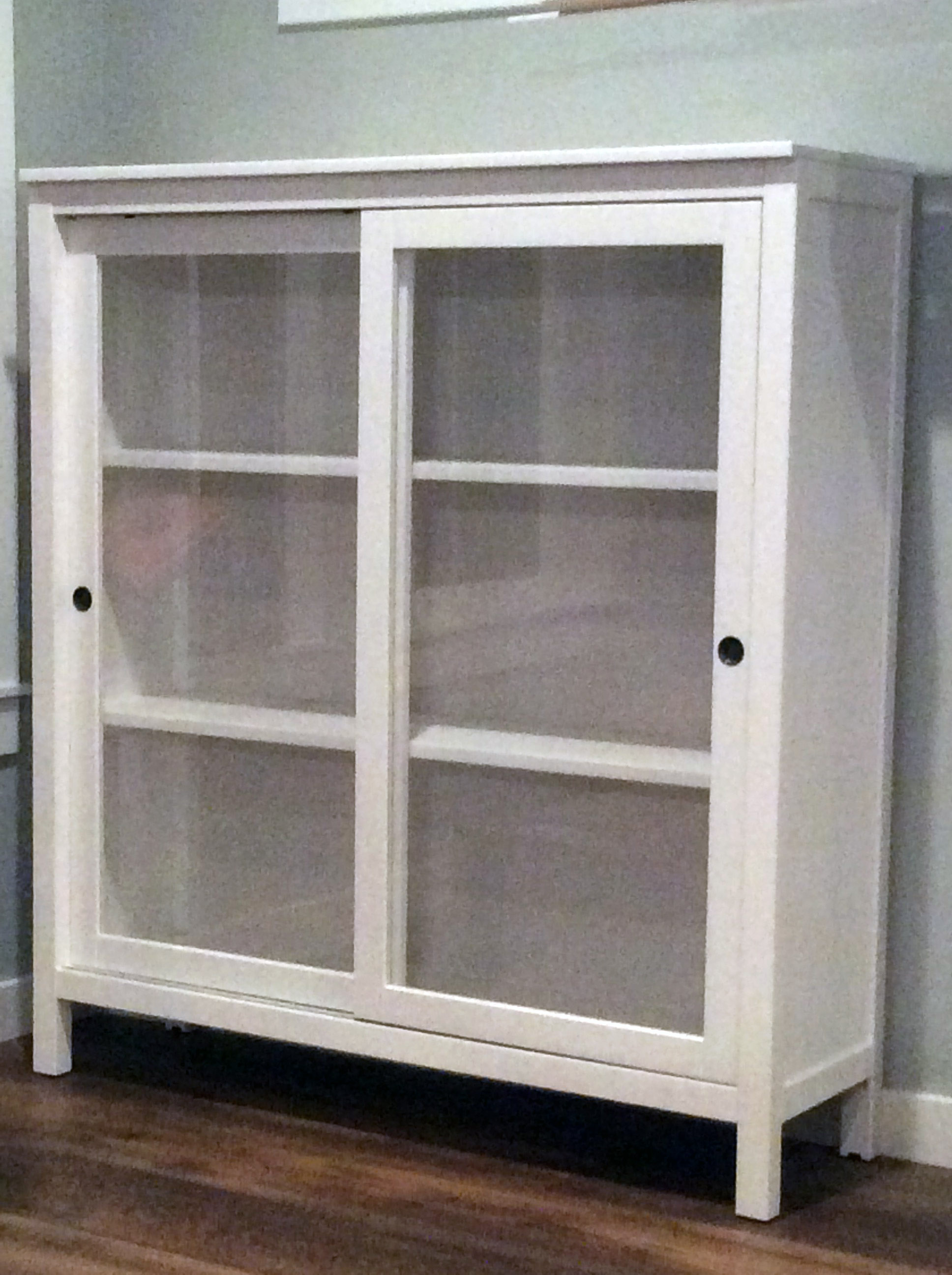 They fit very nicely in the space and houses all of the tv stuffs.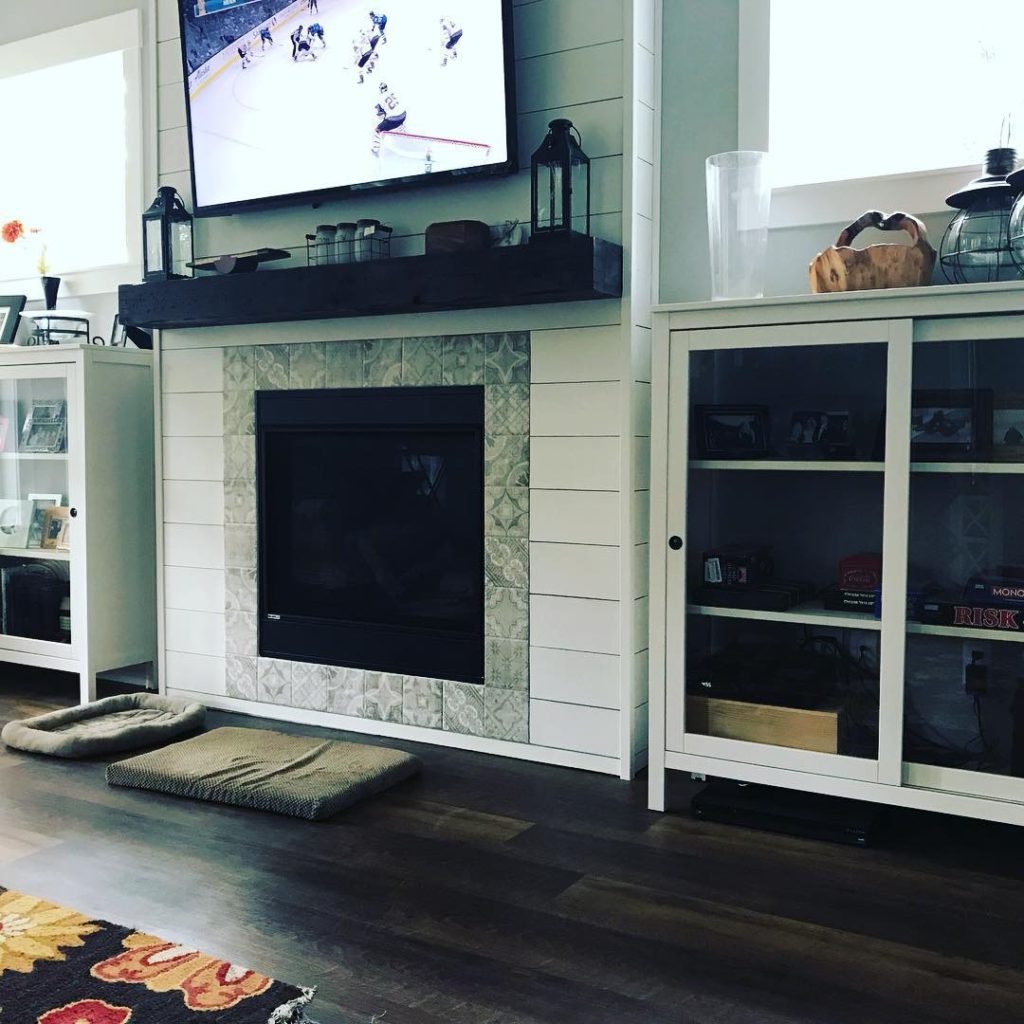 Mirror mirror on the wall
When we moved out of our house in California, Jim promised that I'd be able to replace the cheap full-length mirror we donated. So I found a huge one on a local swap board! It fits perfectly in the shower/toilet area just leaning against the wall.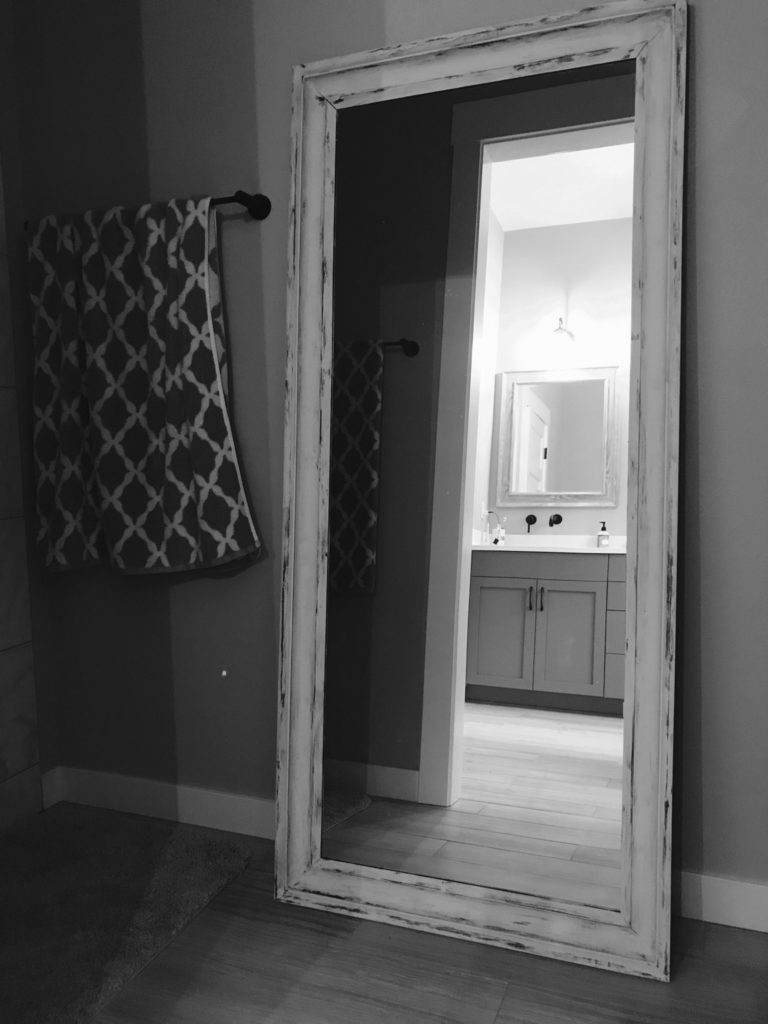 More to come…and go…
We still need to replace and renew a "few" more things around the house but it's definitely starting to come together nicely. I'm not hanging up my good deal shopping skills just yet!