Paperwork Submitted
Well there's not too much to update…we submitted the application and fee to Clark County a little over a week ago and have to wait for them to do the survey. Unfortunately, we haven't heard a peep from our realtor on any status updates. He's been really great though and has done a ton of legwork for us. As long as it's deemed that the land is a legal lot, we'll be able to drop the contingency and hopefully close! Fingers crossed.
In the Meantime…
What does one do while waiting for land surveys? Search for house plans, of course! We've roughed up where we think the best place for the house would be. The top of the drawing is the main road. To the left, there is no neighbor house and to the right is the neighbor with kids (and roosters) that Jim talked to when he was up there. The green circles are the established trees on the property and the light green strip is the creek area. And that little square at the end of the driveway is a 3500 2-story square foot house. Look how teenie that looks on the land! #somuchland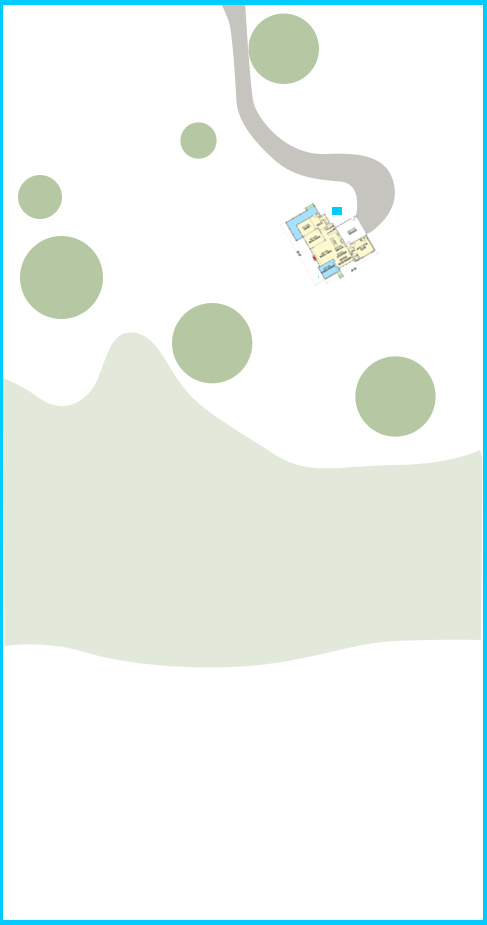 Checklist
So after looking at a zillion house plans, we've come up with a solid set of ideal requirements for the house plans:
About 3,000 square feet
1-2 stories with possible daylight basement
4-5 bedrooms, 3.5 bathrooms
Open concept kitchen/dining/family room
No separate living/dining room
Office downstairs
Guest suite downstairs
Master bedroom plus 2-3 bedrooms upstairs
Separate laundryroom
Mudroom
Screened in back porch
Wrap around front porch
2-car garage with extra room
Bonuses:
Bonus room  = game room, workout room, sewing/craft room, etc
Kitchen nook/library
3-car garage
Style:
I absolutely LOVE the farmhouse look with wrap around porch. LOVE. I also like the craftsman look but they tend not to be as open concept. I don't want anything super modern as it needs to look like it's part of the neighborhood. Jim has shown me house plans for every style under the sun so I'm not sure what he likes. But usually it's opposite what I like. I found this house plan which checks off everything that I want except it's a bit larger than what we need.
I'm desperately searching for another plan that will scream yes to both of us. Good thing we have some time on our hands.