Successful trip!
We had a great road trip up to Washington after Christmas. Breaking the drive into two days is DEFINITELY the way to go. Especially when there's snow on the way. There was a ton of snow on Mount Shasta which was wonderful to see and Shasta Lake was even a little higher. Even though this winter weather is going to suck, it's definitely needed here.
We stayed in Ashland, OR and ate in a cute little Italian restaurant for dinner. Never having been to Ashland, we didn't know where the actual downtown was (apparently not where we ate). So we found that after dinner and just drove around as most shops looked closed. It'll be a fun little town to explore though probably not during the Shakespeare festival. Oh and FYI, Ashland has sales tax boo hiss.
We woke up to snow the next morning which the boys were completely excited about. Jim, not so much. But the drive through and out of the mountains wasn't too bad and we were able to make it up to Washington by 1:00….just a bit before our appointment. So we went and checked out the property which was pretty much the same as we left it! Except there was SNOW!!!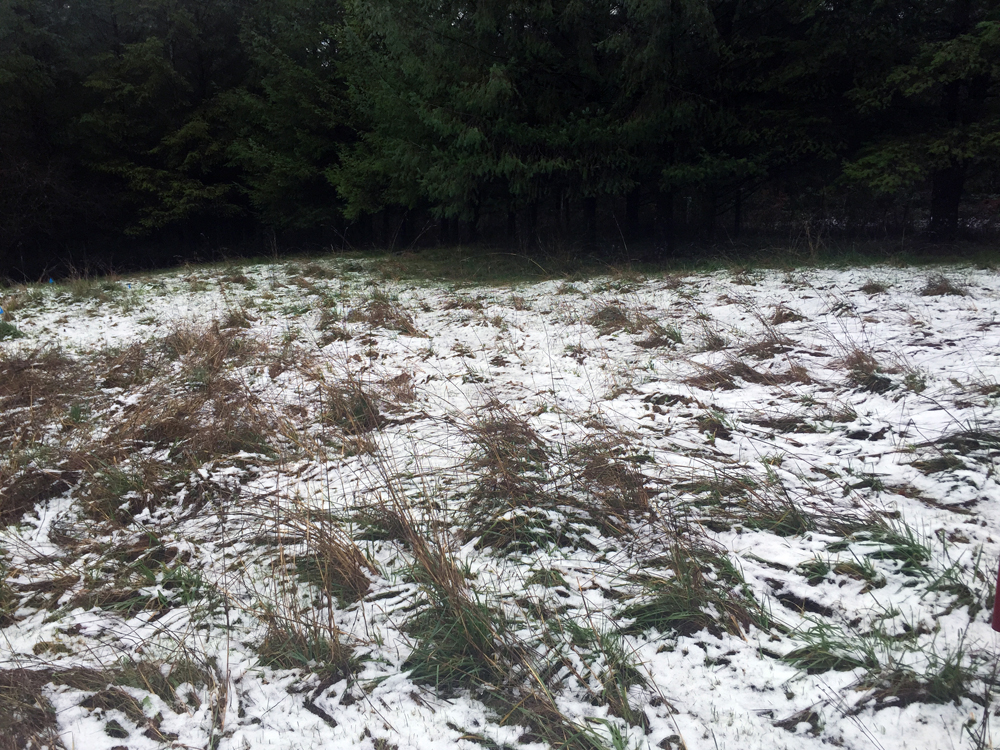 Enough to make a snowball…
Builder #1 – Quail Homes
Google found me this builder, which is known for its "green" building practices. Their office is in Vancouver so it was a quick drive from the property. And Jon was nice enough to postpone his vacation travels a day to meet with us. I had sent him our property address and the dream house plan we both liked in the hopes he'd put some ballpark pricing together, but he didn't have a chance to do that. So we discussed their normal building process and asked him a ton of questions along the way. He spent a good two hours with us and we walked out of there thinking, well nobody can top that guy. (He called me the next afternoon to see if we had made it to Mount Hood like we had talked about as he was driving past there).
The good:
Larger, well established business
In house designer to help us pick things out
Works with the same contractors
Super nice guy
Green building practices
OK with letting us do some of the work
Build time: 6-7 months
6 year warranty
The not so good:
A little bit more expensive (but not as much as I was expecting)
Not sure if he has an architect to help us draw up any plans from scratch
Not as prepared as I would have liked (details!!!)
Builder #2 – Brabec Homes
We saw this builder's sign the last time we were up in September. They were building a house on the way to ours so after many missed opportunities, I finally got a good picture of the sign so we could get their phone number. This is a smaller builder – we met at one of their homes in Battleground – but they were really nice and well prepared for the meeting. They had our plans printed out and asked us a lot of questions. We asked many of the same questions and got mostly the same answers. And most of the "green" building that Quail Homes does is pretty standard and to building code standards.
The good:
Prepared and knowledgeable about the plan we picked
Works with the same contractors/vendors
Super nice guys (two of them)
Green building practices
Less expensive
OK with letting us do some of the work
6 year warranty
The not so good:
Smaller business without an office
No designer to help us pick things out
Build time: 8-10 months
They would need finalized plans or CAD files
Builder #3 – Krenzler Homes
This one was a Jim find from a while ago. When we were up in September, we attempted to find one of the houses he was working on and couldn't. He was out of town that weekend (it was a holiday) so we didn't get to meet then. We met with the father and son who run the business together. As with the others, all work is outsourced with contractors. When we looked at the dream house plan, he came up with a reeeeeeeeeeally high estimate on what it would cost. That burst my bubble a bit. Then we talked about some simpler plans and costs there. We both felt a bit "meh" about it. And the warranty they offered sealed the deal.
The good:
Established business with office with big TV to look at gorgeous dream house plan
Works with the same contractors/vendors
Green building practices
Build time: 6-7 months
Can draft up plans from scratch for a reasonable price
The not so good:
The most expensive
Only a one year warranty!
Overall, it was a very good trip and we got a lot of information out of it. With lots of snow…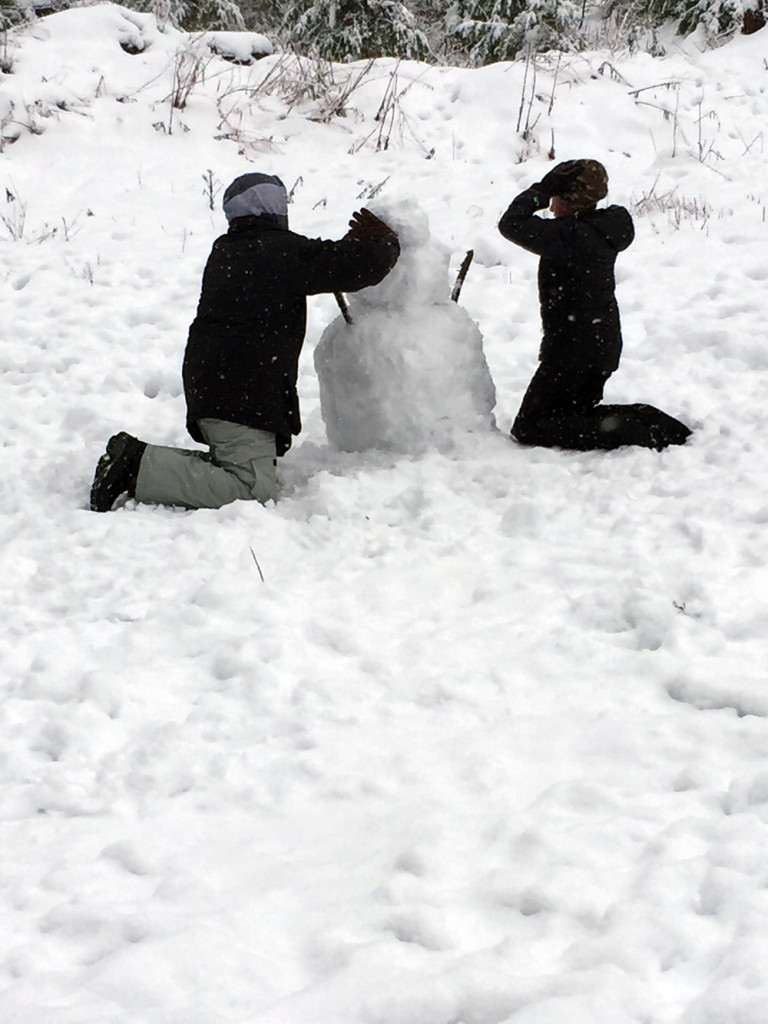 A gorgeous future commute…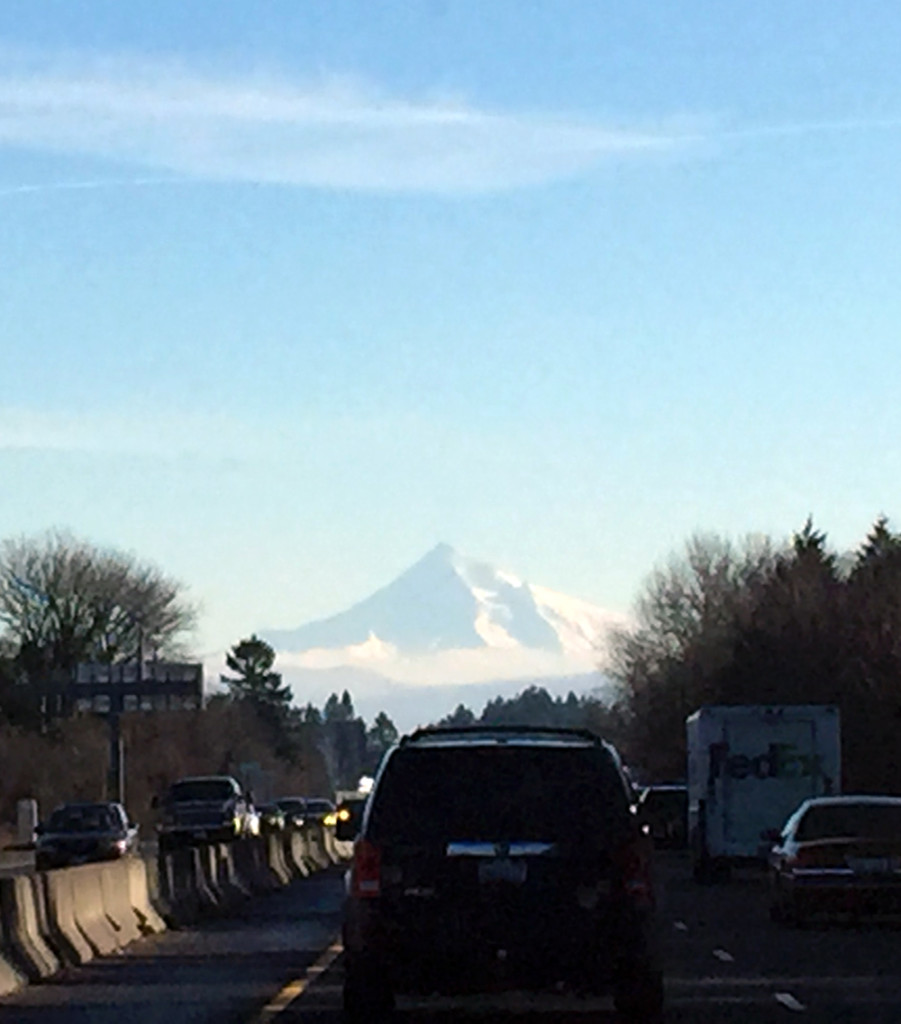 And a happy family!