There was so much to get done in September that I'm just now able to sit down and write about it.
Finish selling the house
Find a rental in Washington
Book a trip (moving truck, rental car, hotel, flight, storage unit, oh my)
Take a long weekend trip
Find a job
Find movers and set up dates
Pack all the things
Clean all the things
Move all the things
Construction loan getting
Print out everything we will need for the move before the printer gets packed up on the truck
BABY SHOWER!!!
And I'm guessing there was more on that list than I'm remembering…but it was a busy month.
Selling a house is a lot of work
Well, the selling itself was actually pretty easy. It was more the keeping it clean and evacuating with dogs in tow for the showings that was a lot of work. And keeping the boys away from the white things. All the white things…. Meghan did an awesome job handling everything though and it went super smooth with a slight hiccup (see below). If you're in need of awesome real estate agents in the South Bay (to buy or sell), you can find Meghan and Joanne on Zillow or their website. Or just send me a message and I'll get you in touch.
The rental market is insane
If you thought the real estate market here was insane, well you haven't met the rental market in Camas yet! Apparently there's a 2.5% vacancy rate right now in the Vancouver area. Part of that has to do with the smaller number of homes and the other part is that people are moving out of the Portland area due to rising rental prices. We started looking at rentals right away and kept hitting a wall when we'd either not get a response from the agent or we'd find out that they were no longer accepting applications due to so much interest. Not being able to view the property that day or the next was also a challenge. And property managers didn't have waiting lists or people that helped you find rentals…they just said to keep checking the website for available units. So we knew that we had to make a trip up there in order to find something. But we didn't just want to look at rentals…we decided to kill three birds with one stone and move up some things and throw in a few interviews while we were at it.
Road Trip!
We left bright and early (4am) on Saturday the 16th with a packed U-Haul truck containing all the things we wanted to put in storage up there. It took us just about 12 hours to get up there with stops along the way. We checked into our hotel (Candlewood Suites in Vancouver..awesome!) and then went over to Washougal to unload part of the truck and meet with someone who wanted to look at the mobile home.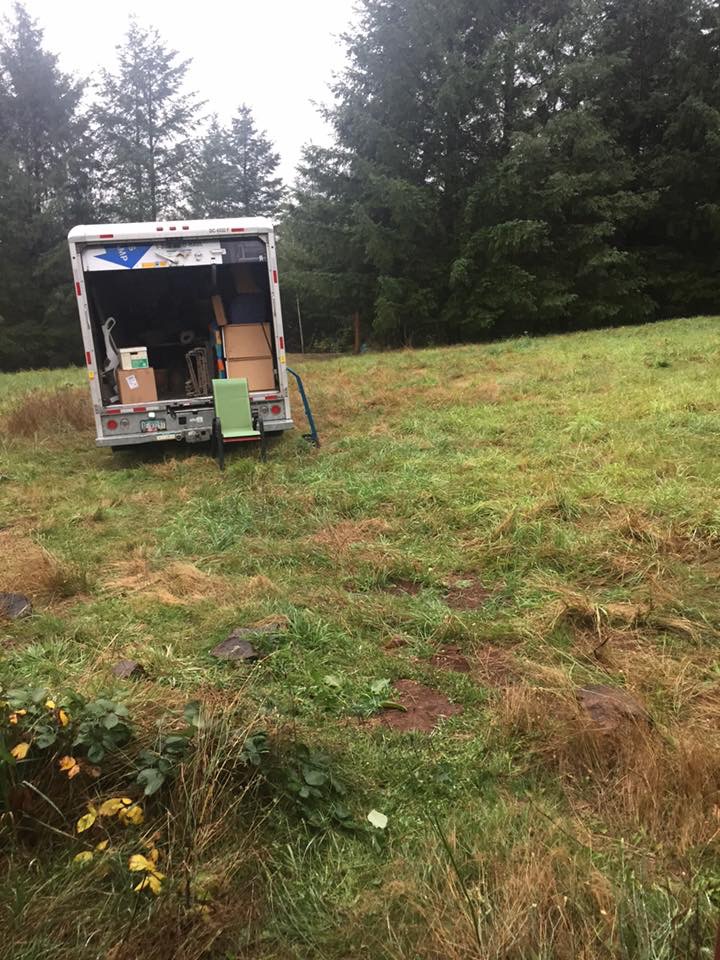 Oh and it was raining. We got soaked. My feet squished when I walked. Squish squish squish.
We filled up the well house with all of our lawn care things and put the pots and plants out back. I wanted to organize things but it was starting to get dark so we finished up and went back to the hotel. Squish squish.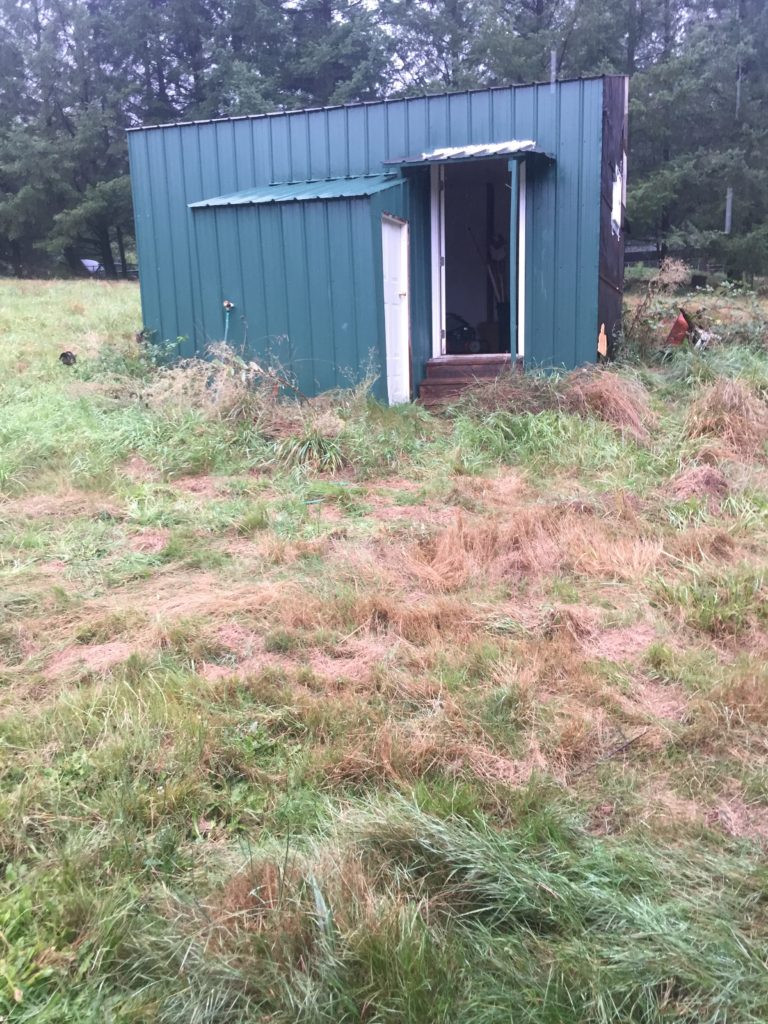 Sunday morning, we left early to get to the storage unit so that we could unload the rest of the truck. We got done pretty quickly and headed over to Vancouver to swap the truck for a rental car. Then we went to go look at our first property in Camas. It was an older home…with lots of "character" but also some issues. There were two bedrooms on the top floor and one downstairs. We joked about putting Matthew in the downstairs bedroom…it would totally freak him out. There was backyard access down there so no way would we put Mason there. He'd be in the backyard at 5am hunting for lizards. No doubt. There was also fencing issues in the backyard. We've already lost Shadow twice. No need to relive that again. But, given the crazy market, we didn't cross it off our list….just in case we didn't find anything else.
In between properties, we drove around Camas and found HUGE houses on the north-east side, many for sale. They looked like mansions. Listed in the 600K range. Sigh.
The second property we looked at was a nice sized house (3 Bed/3 Bath) with a nice floor plan but the backyard was pretty tiny and there wasn't much parking around the neighborhood. The biggest issue with the house was that the owner wasn't quite the owner yet and was waiting to close on the house as an investment property. We weren't quite sure when we'd be able to move in but he was thinking mid-October. It also sounded like there were still some negotiations being done with the purchase which made me nervous. The house was definitely much better than the first so we asked for an application and told him we were interested.
Then we went to our "last resort" property that we walked through the last time we were in town. It's a townhouse complex right at the border of Camas and Wasahougal. It wasn't the ideal place and would probably push our max budget but had a vacancy coming up on 10/5. So we kept it under consideration in case the other properties fell through.
Everyone we talked to was very nice. But then they laughed when we told them we were looking for a rental and only had a couple of days to do it. But they underestimated our awesomeness, they did. Because the next morning, we found our rental.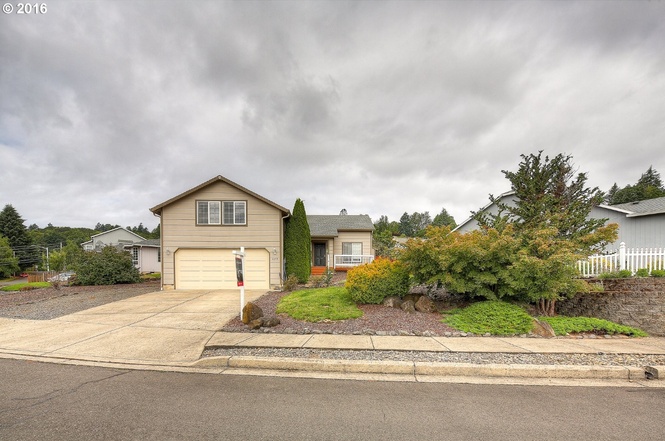 We found the listing when we were still in San Jose and set up a time to see it right before we headed up. I had already filled out the rental applications…just in case. It's located in the southern part of Camas and is a 3 bedroom/2 bathroom with a huge bonus room over the garage. The house was really clean and ready to move in with plenty of parking and tons of storage space (we'd be able to get rid of the storage unit we just moved into). The only issue we could see is that we might have to reinforce the fence in a couple of spots in the backyard (Shadow-proof). It really was exactly what we needed so we submitted our applications and hoped for the best.
Onto the Interviews
After seeing the house, we went off to Vancouver for my first job interview. The owner had a conflict so I ended up interviewing with the Creative Director instead. It's just a designer role but the fact that it's in Vancouver was the most appealing. The interview went OK…it sounds like they might want to hire someone with less experience though.
My next interview wasn't until the afternoon so we lunched and then checked out both the Camas and Washougal school districts to get paperwork to enroll in. We weren't sure where we were going to get a rental so we got paperwork for both.
My second interview was in downtown Portland and just took about a half hour with pretty minimal traffic. It was at a non-commuting time though and will take longer during rush hour. I had already had a phone interview with the recruiter and a Skype interview with the hiring manager so I pretty much knew what I was walking into. The hiring manager is pretty scatter brained and I'm confident that the job will be hellish, but beggars can't be choosers so I put on my best face and said I'd be up for the challenge. She borrowed my pen to scribble out her plan for the structure of the department and what my role would be responsible for. It was essentially the same thing we discussed on the Skype call. We wrapped up and she walked me out…and totally stole my pen.
I had been in a dress all day so we went back to the hotel to change and had a nice dinner…with lots of booze.
The next morning was Jim's turn for his interview. He had already talked to this guy on the phone about the position and was really interested. After an hour, I got a text that he was offered the job! It would be a pay cut but we both knew that moving out of the Bay Area would result in lesser pay. We just needed to make sure he kept his current job until our construction loan closed (more on that later). The owner was willing to wait for Jim and sent him an offer letter and paperwork to fill out.
It's Coming Together
We did a few errands around town and then headed early to the airport to see if we could get on an earlier flight since ours had been delayed. It would have cost us like $500 to change so we just hung out at the airport and waited it out. While we were there, Jim got a phone call for the last rental in Camas…he was calling the applicants as part of the screening process and just wanted to ask some questions. It went pretty well because the next day he called us back and told us that he had discussed it with his wife and decided just to go with us instead of calling everyone else. Go Jim! Rental acquired and we were no longer going to be homeless!
Since we finally had a place to move to, we got everything set up with the movers and decided to move on Sunday 10/2 after the baby shower. We'd drive Sunday and Monday and Jim would fly back on Tuesday so that he could keep working. The movers would deliver on Thursday and I'd get the boys settled and enrolled in school. I can do this.
Juggling all the Balls
Then I got an email from our construction loan lender. Underwriting didn't want to approve our loan with out of state income since the property would be our primary residence. For reals. WTF. After emails and phone calls and lots of swearing, it was determined that we could qualify for the loan with Jim's new job and all they needed was an offer letter showing his rate of pay and hiring date. For reals? WTF. So we changed all the dates again…Jim put in his notice with his last day being 10/7. The boys would stay in school for another week and we'd ALL.MOVE.TOGETHER. The moving company agreed to change the delivery date too so we'll leave on 10/9 and get up there on 10/10 with the movers delivering the morning of 10/12. Holy shit that's a lot of balls. But they finally all fell into place!
Onto the Moving
The movers were scheduled to pick up everything the morning on 9/27 leaving me the rest of the day and next day to clean before the house closed. Unfortunately, everyone forgot there were 31 days in August making the official close date the 27th instead of the 28th. Oy. My house was full of boxes and a mess.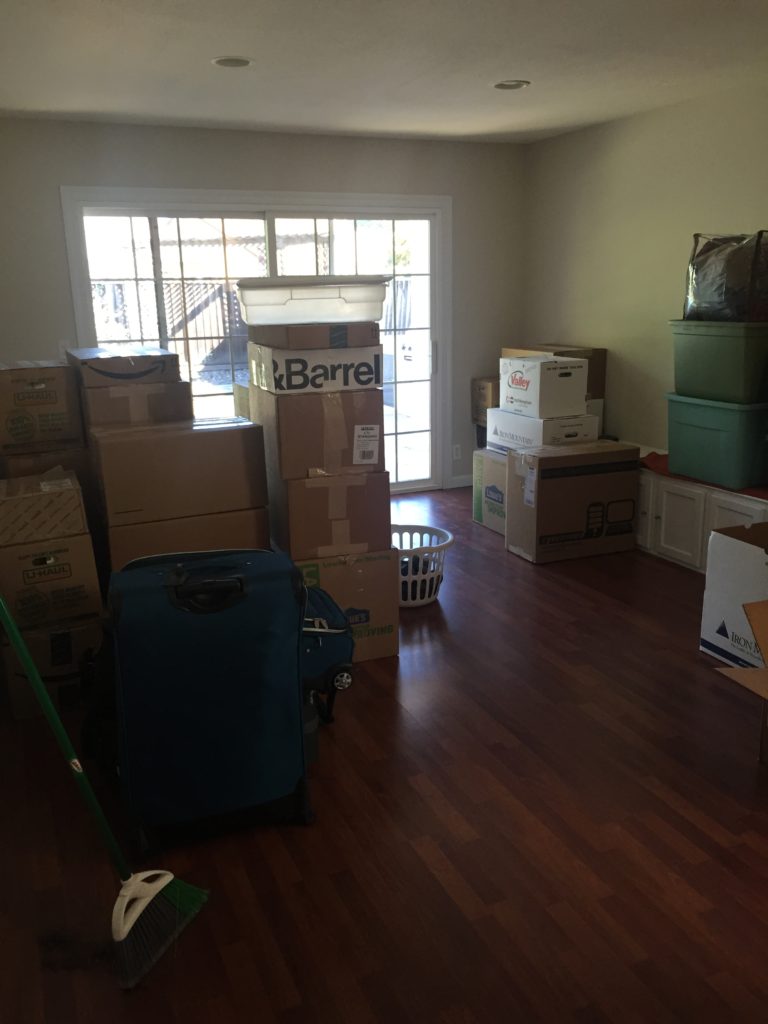 But we got it all packed up and ready for the movers by 9/27! It took them a good 4 hours to get it all packed into the huge ass truck.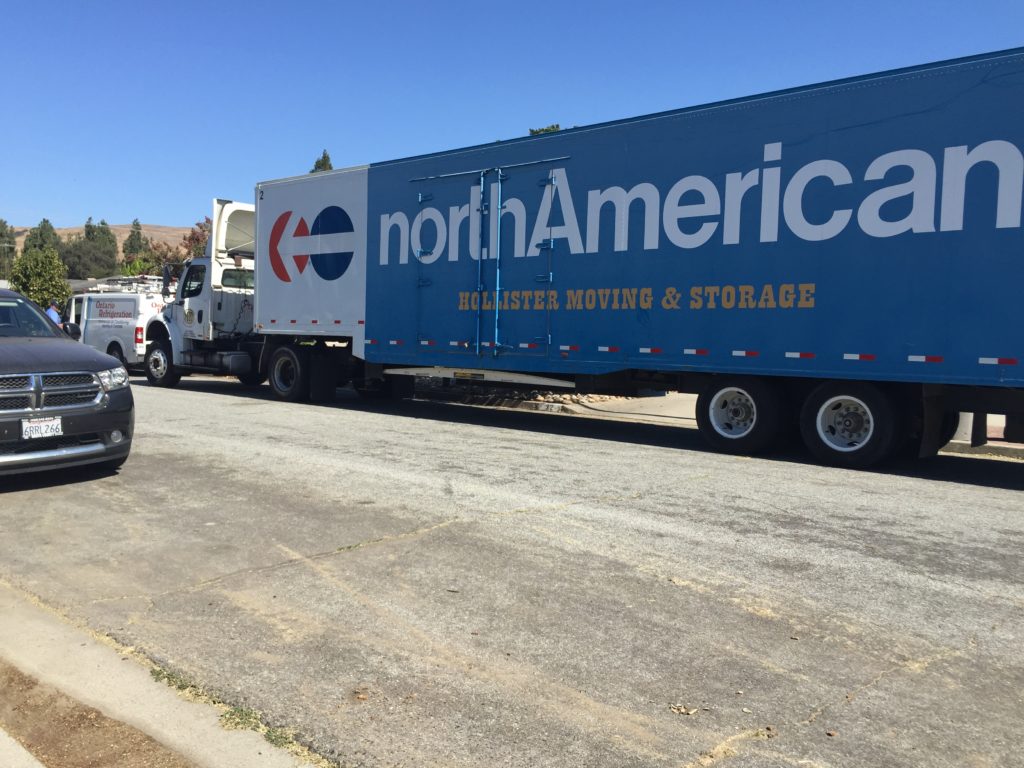 And the house was empty.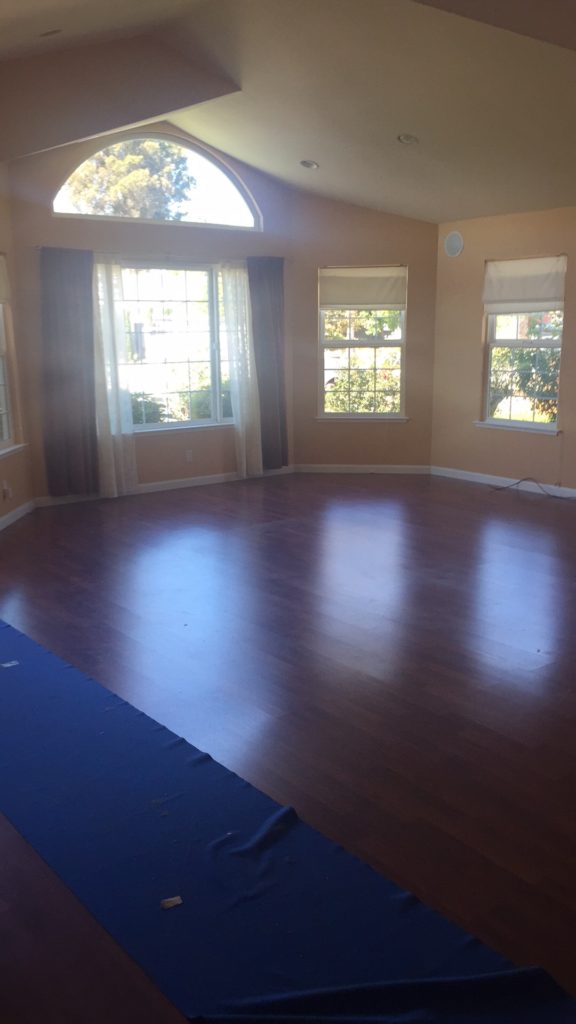 And we said goodbye.
Let the Adventure Begin!
Tomorrow's the day it all starts. After taking over Bonnie and Dennis's house for a couple of weeks (we seriously can't thank you enough!), we will be on our way to our new home and everything else new. Together. As a family.
And it's going to be hard to say goodbye.