As parents, we aren't supposed to pick favorites…but when designing a house? You betcha. Here are some of mine…
Faucets
Who would have thought 18 years ago when we got married that I'd be swooning over any sort of plumbing…not me for sure. But oh man. Should you ever get the chance to remodel your bathroom down to the studs, consider faucets that come out of the wall. Because they are awesome. Mainly because that water won't collect all around it anymore. You know what I mean…that hard water staining you can never seem to get clean. Yes. Gone. No more in this house. Well at least on the lower level. We opted not to splurge for the boys bathrooms because 1. they are boys and will be super hard on anything they live in so we'll probably have to replace things once they move out. And 2. we really had to stay under budget since I went over with almost everything else (oops!)
The details: We found this matte black line from delta that was clean and screamed modern farmhouse (that's my story).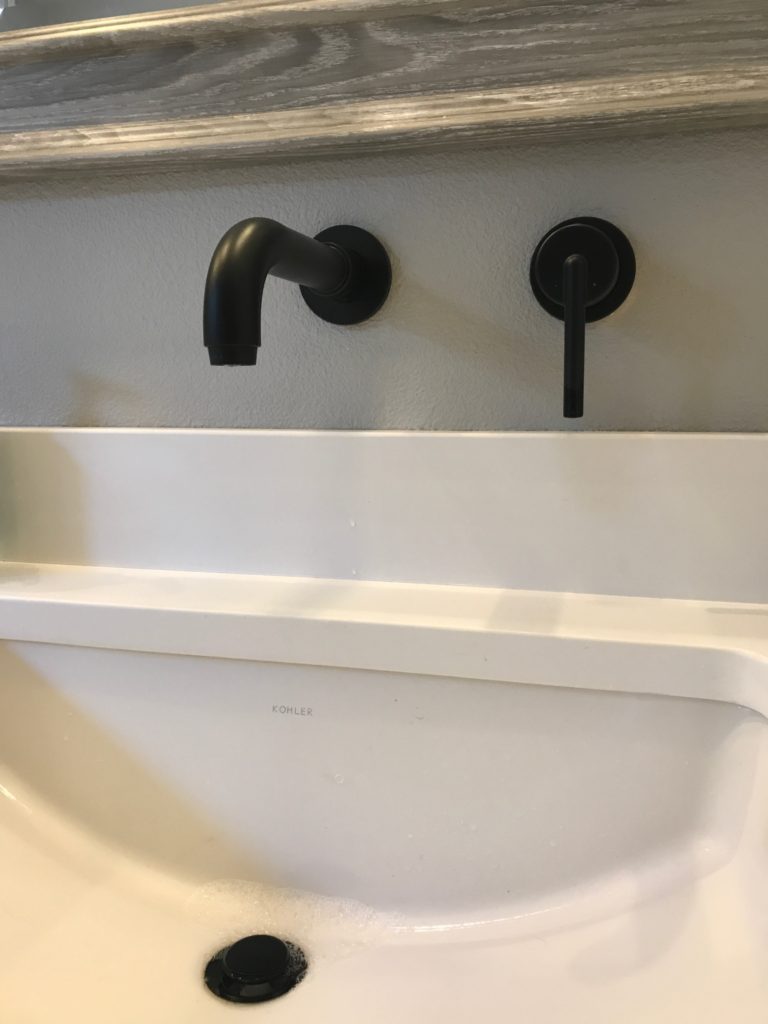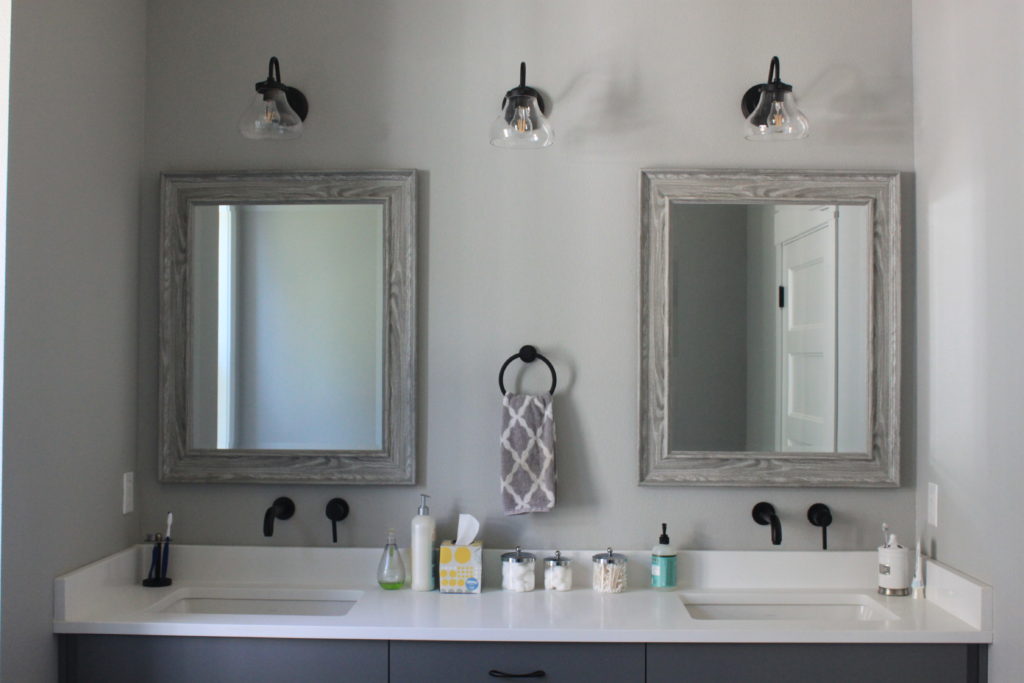 This Sink…
Is everything. I thought I wanted a center drain but having the drain offset is sooo much better. Dirty dishes on the left! Washy on the right. Actually it doesn't matter where the dirty dishes are because this faucet reaches every square inch of the sink. Love. And you can't complain about this view.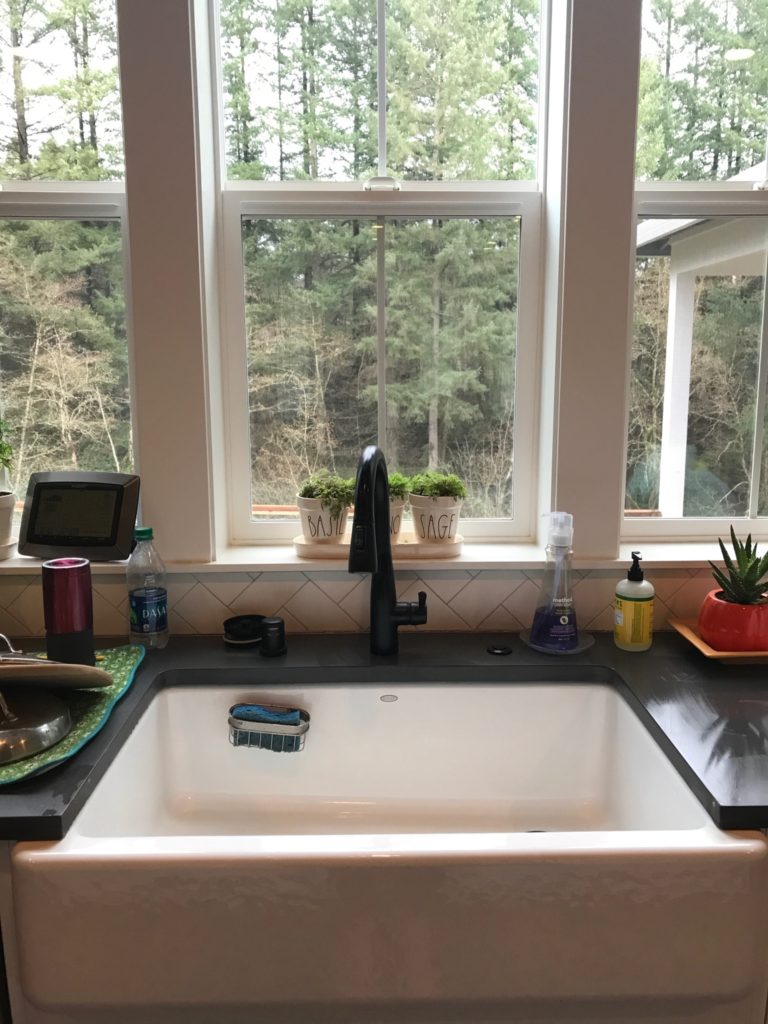 The details: 36 inch Kholer farmhouse sink…it's huuuge!
My tub
It's huge. I can barely touch my toes to the other side while sitting in it. I mean look how deep this bad boy is.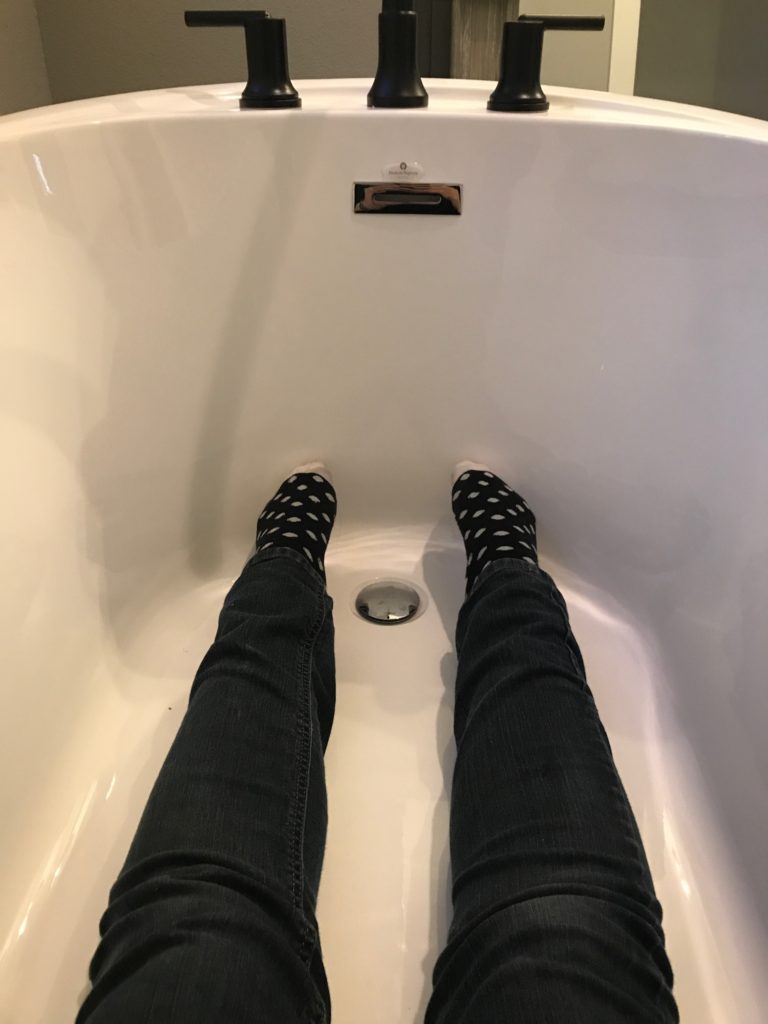 And when you fill it up, it may or may not use all the hot water (oopsie)!
My Accidental Spice Drawer
We didn't really plan a spot for spices…we talked about one of those skinny pull out spice racks but really couldn't find a spot in the cabinet layout to make it work. I figured we'd just put the spices in the pantry again. Then my brilliant husband went to unpack the spices and put them in one of our big top drawers. The result? OMG. I can see everything! Brilliant!
This Stove
I FINALLY have a gas stove. Well propane. And it's dual fuel which means the oven is electric. It's supposed to be the best of both worlds. It SO is. We ended up going with the 30 inch instead of 36 inch because…well have you ever looked up the cost of a 36 inch dual fuel range? Um yeah…wasn't in the budget. But we chose this kitchenaid because it had five burners and a huge oven capacity.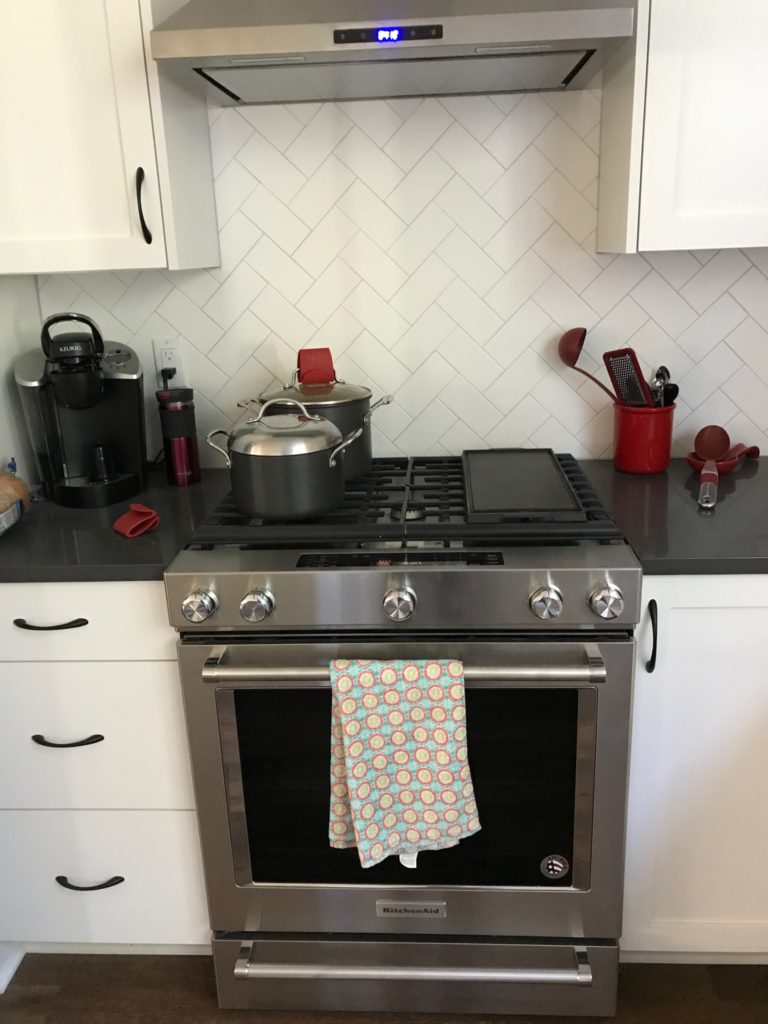 Built in Vacuum – Best.Invention.Ever.
We absolutely had no idea that we needed one of these and then the builders had it listed out on our spec. It wasn't super expensive so we went for it. You guys. If you ever build a house from scratch, you neeeeeeed this. Like need.
We have three wall plugs (two downstairs and one upstairs) and we just plug in the hose, add an attachment (it came with a bunch) and vacuum away. This thing sucks. Literally. Better than my $300 Dyson ever did.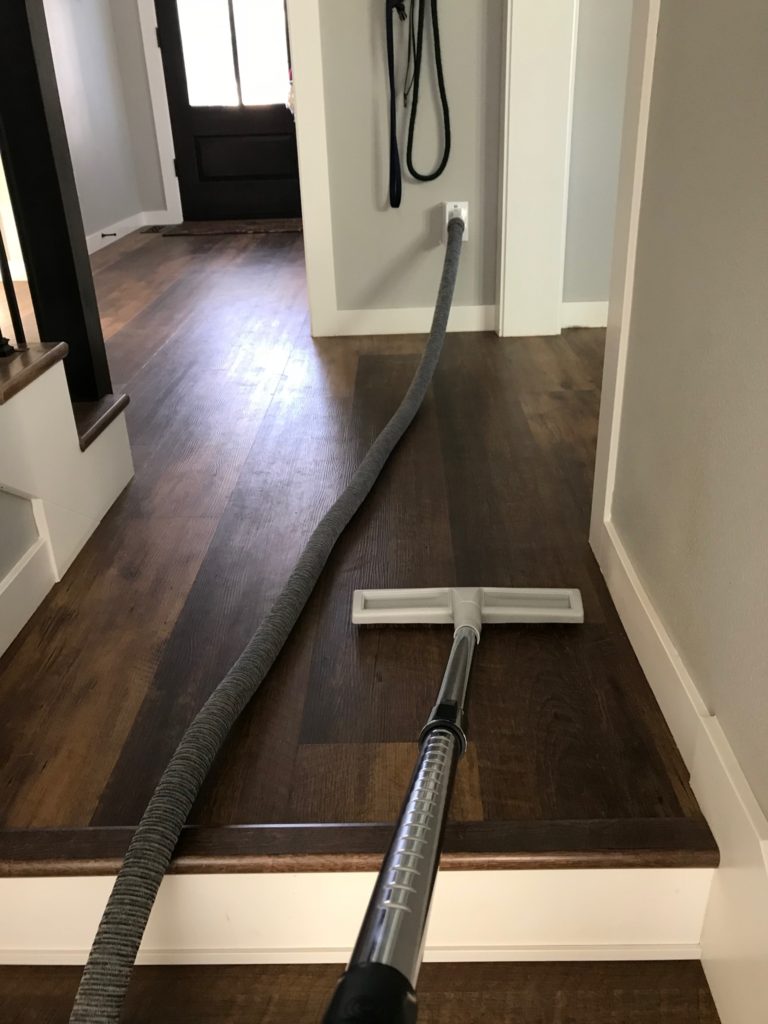 And it all gets sucked down under the house into this big storage bag that we just had to empty since moving in.
Oh! And we have an extra kick plate under the pantry that we can just sweep shit into if we don't want to hook up the vacuum. Um, yas!
Those Floors…What ARE They?
I've been dreaming of dark hardwood floors for years. The almost black floors that everyone says not to get because they are a bitch to keep clean. We told our builders we wanted hardwood. I ordered tons of samples and shopped everywhere. Well when we went to pick out flooring finally, it was evident that the builders did not budget enough to cover hardwood. We ended up selecting an engineered hardwood that was still out of budget. I was not a happy girl.
Then a coworker told me about this flooring she was installing in her new house (her build took half the time as ours)…she said it was called luxury vinyl and all I could think of was that old vinyl flooring that adorned most kitchens from the 70s. I was skeptical. But I figured I'd look for it while we checked out another flooring place to compare prices.
They carried a line called Coretec and it looked like real wood! These are printed just like laminate flooring BUT they also emboss the boards so that they have actual grain. The best ever part of luxury vinyl? It's waterproof. Shut.the.front.door. We had a water incident with laminate in our last house and I never wanted to run into that problem again. Vinyl was no longer sounding too shabby. Oh did I forget to mention the lifetime warranty Coretec offers? Sold! And then we fell in love with something that was so very different than I thought I wanted.
I give you…Coretec plus XL in Montrose Oak…
I have not regretted this decision one bit. It holds up awesome to our three dogs (more to come on that) and our yard that is nothing but mud. And dirt when it's not raining. Red dirt. Sigh.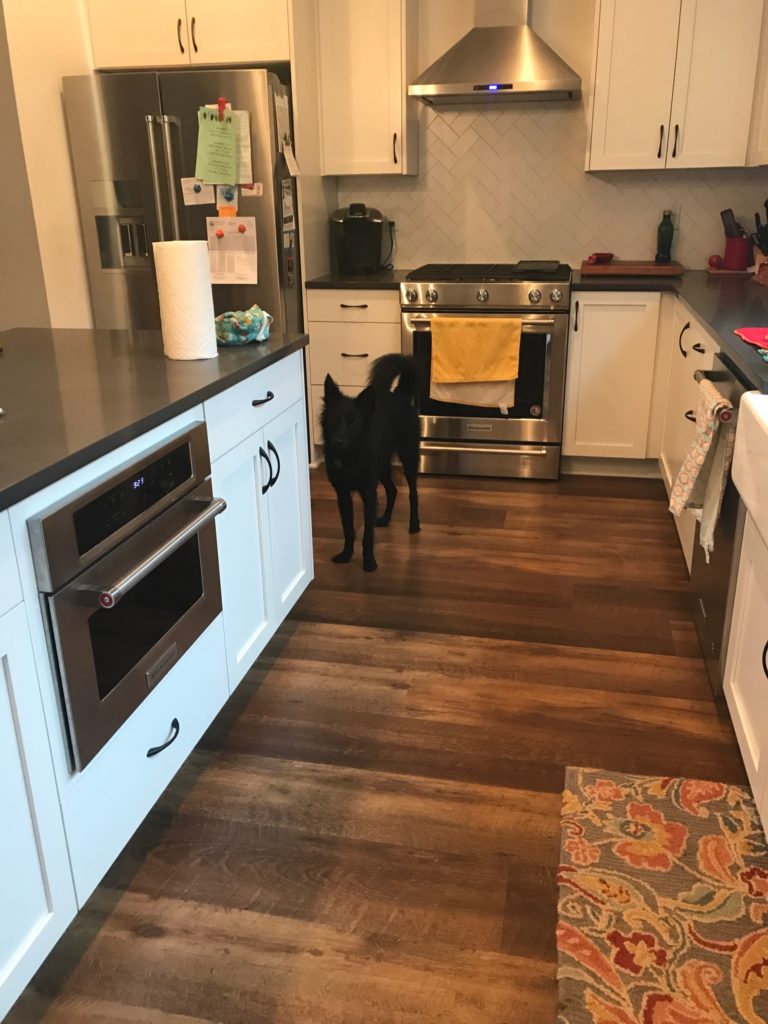 If we had gone with the dark hardwood I originally wanted, I'm pretty sure I'd be crying about now.
Last but not least….this backyard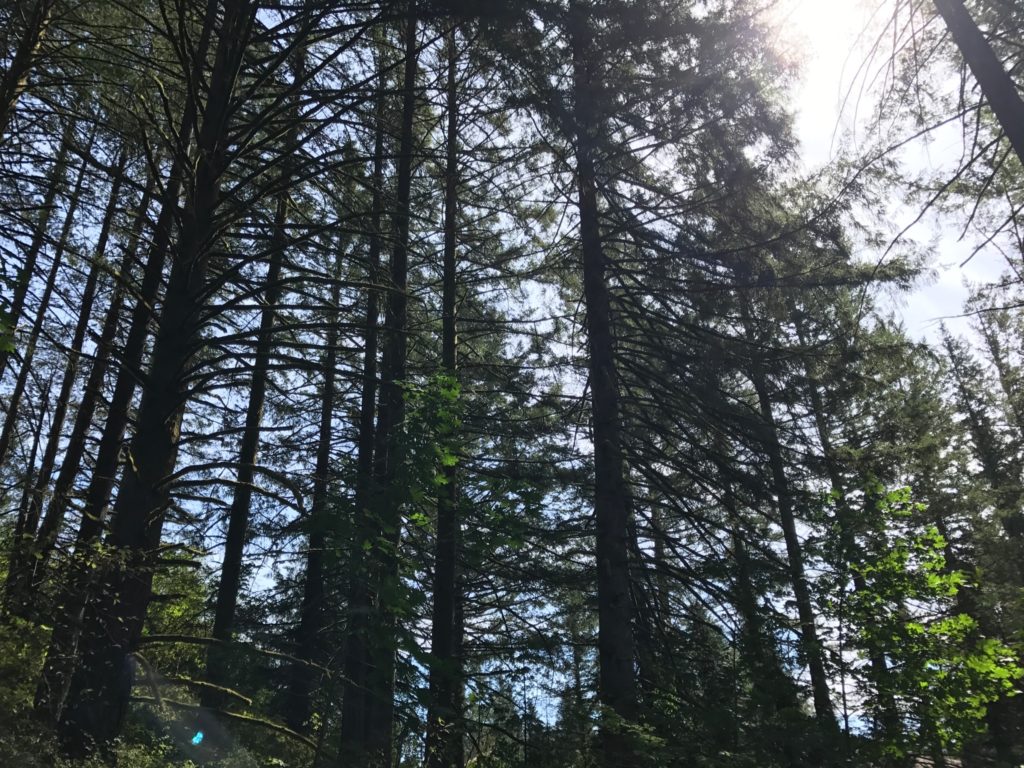 And the sunrise…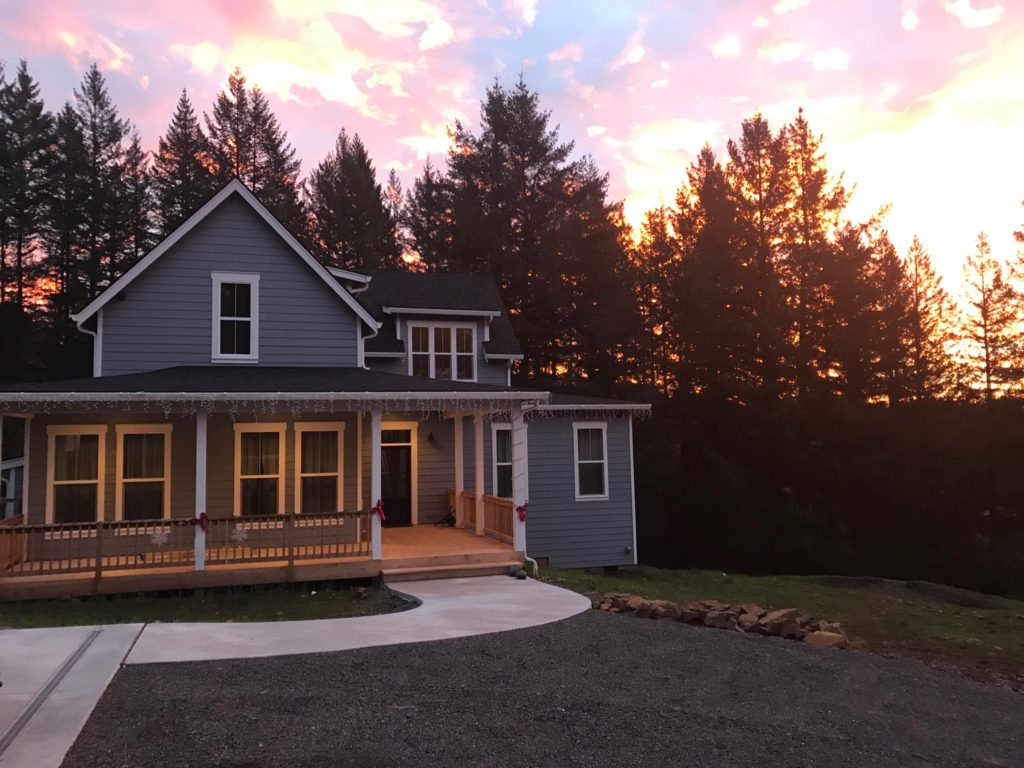 Ok maybe that was more than a few…but who can really pick between your babies?